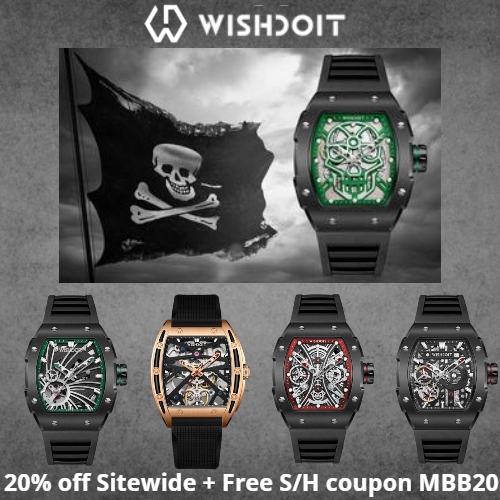 WISHDOIT offers premium men's watches that are inspired by the culture of Caribbean Pirates during the 18th century. Unlike traditional round and square watches, their Pirate Tonneau collection of watches have a unique pirate style, barrel-shaped case. They come in a range of great styles & colors, feature interchangeable bands, and are crafted with top quality materials, like 316L stainless steel & sapphire crystal glass.
The Pirate Tonneau collection has 5 different watch styles:
Urca's Treasure – This watch is designed in 3 colors: black, silver, and gold, the three most common colors in pirate culture. The design and naming of these watches was inspired by the Urca de Lima, a treasure ship legend that circulated among the pirates of Nassau and was a part of the storyline in the hit series "Black Sails". It is designed to remind you to challenge yourself and hold your own destiny in your hands, just like controlling the direction of a sail to keep moving forward.
Viking Tomahawk – This watch is inspired by the bravery and fighting spirit of the Vikings. The dial design features two large arcs on the surface to resemble the arc of the blade line of the Viking battle axe. This watch is designed to inspire you to be bold and brave when confronted with the adversities of life.
Joli Rouge – The skeleton is the most iconic symbol of pirates and these watches feature a unique skull design that was inspired by the famous Jolly Roger. The skeleton not only represents death, but also new beginnings, strength, and the eternity of life. This watch is designed to inspire you to boldly pursue your dreams, be true to yourself, enjoy the fun of life, and have the courage to break through the shackles of the world.
Ocean Back Hole – This watch represents the mystery and infinite power of the sea. The line design represents unique individuals that meet in a circle or "Black Hole" in the lower left corner. By gathering together, a powerful force can be formed. This watch represents mystery and infinite power.
Physic Compass – Inspired by the compass from the Pirates of the Caribbean movies, this watch symbolizes freedom, adventure, and challenge. Life is full of challenges and you never know what will happen next. The Psychic Compass pirate watch is meant to inspire you to boldly meet challenges in life with a sense of adventure.
Fun Fact: WISHDOIT has been featured in VOGUE, Esquire, Maxim, and FHM!
Get 20% off Sitewide at WISHDOIT using coupon MBB20. All orders ship Free – No minimum purchase required. All watches come with a 100% satisfaction guarantee and a 5-year warranty.
2