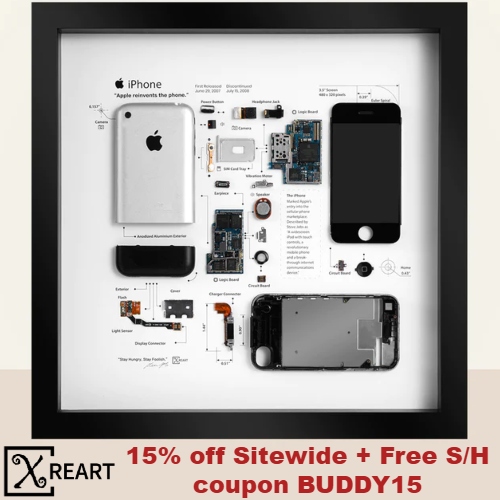 Technology is continuously revolutionizing our world. As consumers, we've personally experienced how electronic devices can change and enhance our daily lives, so naturally some of them can come to hold special meaning for us. Unfortunately, with the release of each new generation of devices, the older products gradually disappear and wind up in the trash.
XreArt creates unique and nostalgic framed art out of disassembled electronics, such as cell phones, handheld game consoles & gaming accessories, and smart watches.
By creatively framing obsolete electronics, XreArt reuses these discarded tech devices, which preserves the nostalgia of the era, while recycling e-waste that would otherwise end up in landfills and contaminating the environment.
Their framed 3D artworks are made by expertly disassembling & cleaning the devices and creatively arranging the pieces into a stylish design. Each component is labeled with product descriptions and fun facts about the device.
XreArt pieces are great for adding a cool & unique touch to your office décor or game room and they make great gifts for the techies and/or gamers in your life.
Want to frame your own personal device? Check out their selection of DIY kits that include everything you need to create your own art piece.
Get 15% off Sitewide at XreArt using coupon BUDDY15. All orders ship Free – No minimum purchase required!
2