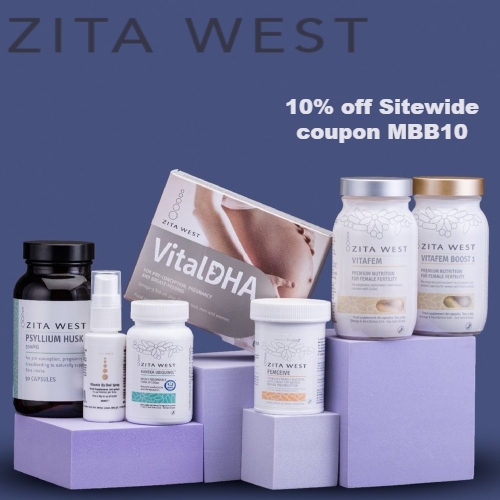 Embracing a holistic approach to well-being often involves seeking products that align with the body's natural rhythms and needs. Enter Zita West, a name synonymous with fertility, pregnancy, and overall wellness. Internationally renowned for her expertise in fertility and pregnancy, Zita West offers a range of products designed to support individuals at various stages of their journey towards conception, pregnancy, and beyond.
At the heart of Zita West's philosophy lies the belief that fertility and overall health are deeply interconnected. Her products are crafted to harmonize with the body, acknowledging the significance of nutrition, emotional well-being, and lifestyle in achieving optimal health.
Fertility Support
For those navigating the complexities of fertility, Zita West's fertility supplements stand as pillars of support. These products are meticulously formulated with a blend of vitamins, minerals, and nutrients known to bolster reproductive health. From optimizing ovulation to enhancing sperm quality, the focus remains on nurturing the body to its most fertile state.
Pregnancy and Postnatal Care
Zita West's commitment extends well into pregnancy and the postnatal period. Her product line includes prenatal vitamins tailored to the specific needs of expectant mothers, aiming to provide essential nutrients crucial for both maternal and fetal health. Additionally, postnatal supplements aid in the recovery phase, replenishing nutrients that may have been depleted during childbirth.
Wellness Beyond Conception
What sets Zita West's products apart is their holistic nature. They don't merely target singular aspects of reproductive health; they encompass a broader vision of overall well-being. This approach extends to her support for emotional health, recognizing the emotional rollercoaster many experience during fertility journeys, pregnancies, and the postpartum period.
The Promise of Quality and Expertise
Central to Zita West's product line is a dedication to quality and expertise. Each product is backed by extensive research and developed in collaboration with a team of specialists, ensuring efficacy and safety.
Get 10% off Sitewide at Zita West using coupon MBB10. Shipping is Free on orders over $160. Coupons cannot be applied to packs or subscription orders.
1