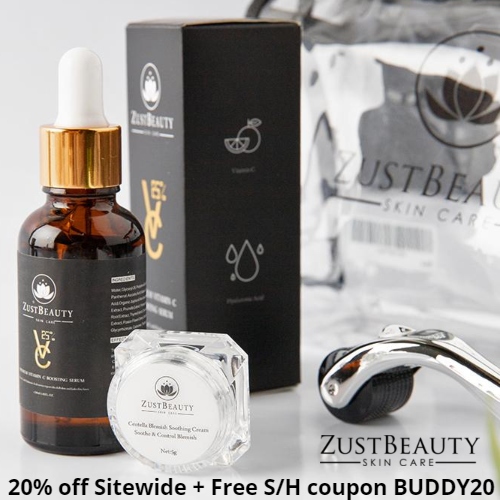 ZustBeauty offers affordable skincare products that allow you to experience salon quality treatments from the comfort of your own home!
Their product line includes Acne Banish patches that help support clear skin, VC Serum made with hyaluronic acid & 25% Vitamin C which can brighten your skin up to 6 times more than regular Vitamin C serums, micro-needling Derma Rollers, Indulgence collagen powder, YouthBoost Gummies & Helthyr Biotin supplements for healthy hair, skin & nails, ZustHairGrowth for safe, painless & effective hair growth for men and women, and their great ZustBlack & Zust Pink kits.
The ZustBlack and ZustPink kits improve the appearance of acne scars, fine lines, stretch marks & hyperpigmentation (dark spots). They brighten & even skin tone, shrink pores, reduce skin texture, and more.
Both kits include their popular VC Serum and a Collagen Soothing Cream, which is only available in a kit. It's a super hydrating cream made with beeswax, vitamin E, and flower extract to soothe the skin after the micro-needle treatment and eventually make your skin brighter and tighter. ZustBlack comes with their signature Derma Roller for your face and ZustPink comes with a 3-in-1 roller that has 3 roller heads designed for use on the eyes, face, and body.
Get 20% off Sitewide at ZustBeauty using coupon BUDDY20. All orders ship Free – No minimum purchase required! All products come a 30-day money back guarantee.
More about the Derma Roller –
ZustBeauty rollers are UV/Gamma sterilized and made from stainless steel and 540 titanium with 0.3mm micro needles, which is the size recommended by dermatologists for home use. They gently wound the skin, triggering the natural production of collagen and elastin and allowing for better product absorption, which increases the effectiveness of topical skin care.
3