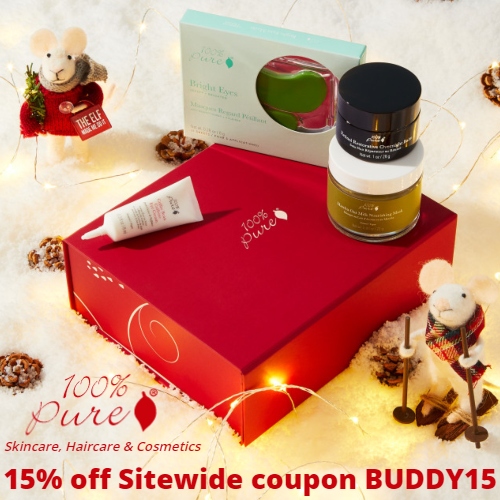 100% Pure offers makeup, skin care, and hair & body products that are cruelty-free and natural, with absolutely no synthetic chemicals, artificial fragrances, chemical preservatives, or any other toxins!
Conventional products often use toxic ingredients like parabens, phthalates, and skin-irritating fragrances that wreak havoc on our skin and can cause more harm than good. 100% Pure is dedicated to producing the purest, healthiest and most effective products possible. Every ingredient used in their formulas is composed of plant, mineral, and/or marine vegetation.
Even their makeup shades are made from natural ingredients! They source the pigments for their makeup from fruits, vegetables, tea, and cocoa to avoid commonly used FD&C colorants and heavy metal dyes.
Their full line of cosmetics has everything you need to perfect your look. Rather than robbing your skin of its essential nutrients and hydration, their fruit-dyed eye & face makeup is made with nourishing ingredients to help promote healthy, hydrated-looking skin, while accentuating your natural features.
Their all natural body care and skincare products for the face are formulated with powerful vitamins & antioxidants that keep your skin looking and feeling healthier than ever – It's like health food for you skin! They offer a large selection of skincare products for all types of concerns, including anti-aging, acne, sun protection, dry skin, sensitive skin, dull & uneven complexion, and more.
100% Pure also offers all-natural shampoo, conditioner, and hair & scalp treatments that are made with ultra-moisturizing oils and purposefully picked ingredients that are packed with vitamins & minerals to give your hair and scalp lasting nourishment and fight common issues, like dry & itchy scalp, split ends, and lackluster shine & volume.
Get 15% off Sitewide at 100% Pure using coupon BUDDY15. Shipping is Free on orders of $50 or more.
Bonus: Orders of $25 or more come with 2 Free samples ($10 value). Be sure to add them to your cart before checking out.
Shopping for the holidays? Check out their selection of curated gift sets & stocking stuffers. Gift sets are already up to 30% before coupon! Plus, they come beautifully packaged in festive boxes or drawstring bags for a ready-to-go gift anyone on your list will enjoy.
All products are backed by a 60-day satisfaction guarantee. If you're not satisfied for any reason, 100% Pure will gladly offer an exchange or refund on gently used products within 60 days of purchase. Final sale items, partial return of gift sets, and free gifts/promotional items cannot be returned.
1