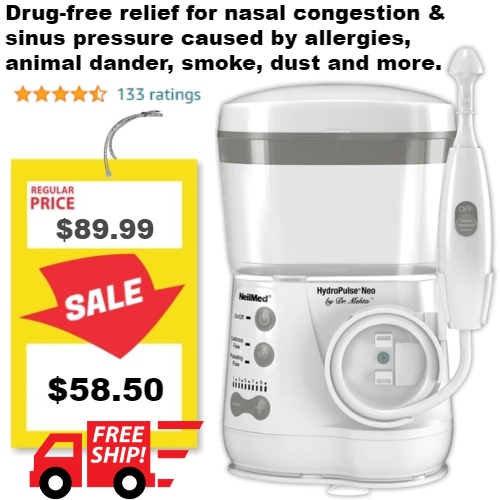 Spring is right around the corner and for many, that means seasonal allergies are, too. According to the Asthma and Allergy Foundation of America, around 50 million Americans suffer from seasonal allergies. While over-the-counter medications can help relieve symptoms, they can be pricey and the side effects can be almost as bad as the sneezing and nose blowing.
If you're ready to try something else, check out this NeilMed Electric Pulsating Nasal Sinus Irrigation System. It's a nasal irrigation device that's used to flush out the sinuses with a saline solution.
Simply fill the unit with warm water, add a sinus rinse packet or your own pre-measured saline solution, attach the nasal tip to the reservoir and and insert it into one nostril. The solution will flow through your nasal passages and out the other nostril, clearing out excess mucus, allergens, and irritants. This can help to relieve symptoms of nasal congestion, sinus pressure, and post-nasal drip that are often associated with allergies, sinus infections, or other nasal conditions.
Nasal irrigation can also help to improve the function of the cilia, the tiny hair-like structures that line the sinuses and help to clear out mucus and debris. By keeping the sinuses clean and clear, nasal irrigation can also help to prevent the development of further infections or complications.
Direct from the manufacturer, this device is $89.99 and Amazon has it priced at $74.13. But you can snag one for just $58.50 + Free Shipping when you order it here and apply coupon BUDDY10 at checkout.
This bundle includes 30 sinus rinse packets. Stock up now and get 200 Sinus Rinse Packets for $20.70 + Free Shipping with coupon BUDDY10 ($5 less than the Amazon price of $26).
2