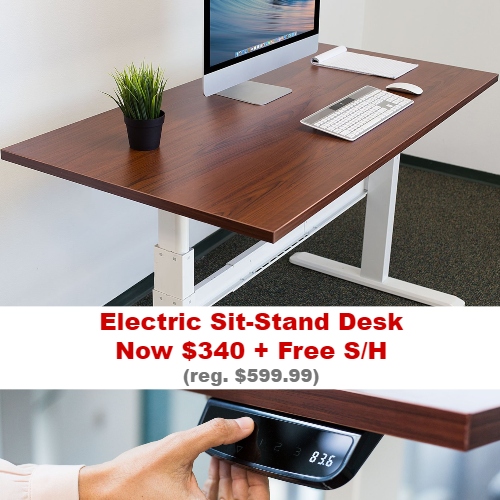 If your job requires sitting in front of a computer for most of the day, this deal's for you! Studies have shown that standing burns more calories, can help lower blood pressure, improves circulation, and can reduce back pain. Heck, you could even do some squats and toe stands if you really wanted to up your game!
This Electric Sit-Stand Desk has an easy-to-use touchscreen display with three customizable height presets. The desk starts at a minimum height of 28.7 inches and can be raised up to 48.8 inches to suit various heights. The frame is constructed with steel and has a load capacity of 176 pounds. Move from sitting to a standing position in a matter of seconds thanks to the quiet, powerful electric motor. Also available in white.
On sale for $399.99, you'll get another $60 off using coupon BUDDY15 (valid for 15% off Sitewide). View all sit-stand desks. All orders ship Free!
Experts say you should start by standing just 30 minutes per day, depending on your fitness level, and increase standing time gradually to avoid discomfort. You might want to consider adding an anti-fatigue floormat to your order (this one is $17.85 after coupon) and they have others.
1