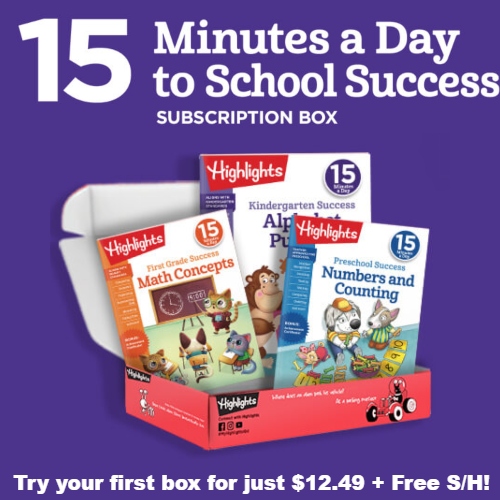 Have a kiddo in preschool, kindergarten or 1st grade? Get them excited about learning in just 15 fun minutes! That's all it takes for kids to benefit from the Highlights 15 Minutes a Day to School Success monthly subscription box. They include an award-winning blend of skills practice and Highlights puzzles that make learning enjoyable and fun.
Sign up today and your first box is only $12.49 + Free Shipping + you'll receive a Free starter kit with a program guide, wall-sized progress poster, a sticker rewards sheet and a double-sided wipe-clean practice board. If you decide to keep the subscription, subsequent boxes are $24.98 + Free shipping.
There is no minimum number of boxes to buy, and you can cancel at any time. You can return any box you don't want at their expense and receive a full refund credited to your account. Your satisfaction is 100% guaranteed!
4