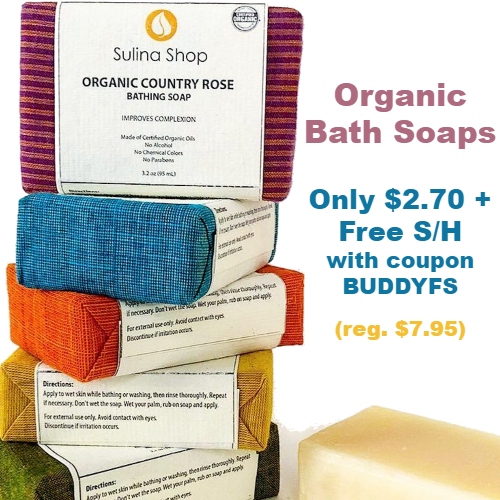 Sulina Shop has dropped the price on their Organic Bath Soaps. Originally $7.95 each, you can now stock up for just $3/bar. Use coupon BUDDYFS to get an extra 10% off your order and Free shipping, making these soaps just $2.70 each! These soaps come beautifully wrapped, making them great gifts or stocking stuffers.
17 scents to choose from – Below are some that are currently available.
Lemon Soap fades dark spots and reduces acne
Lavender Soap is a natural retreat from daily stress
Cucumber Soap provides a gentle cooling effect
Aloe Vera Soap eases skin damage from sunburn
Sulina Shop was founded by 3 sisters whose passion for natural, organic and Ayurvedic beauty products led them to creating their own line when they moved to the U.S. and weren't able to find products like they ones they enjoyed in Fiji. They carry a full line of skin care products, including body scrubs, masks, toner, balms, moisturizer, deodorants, and more.
10