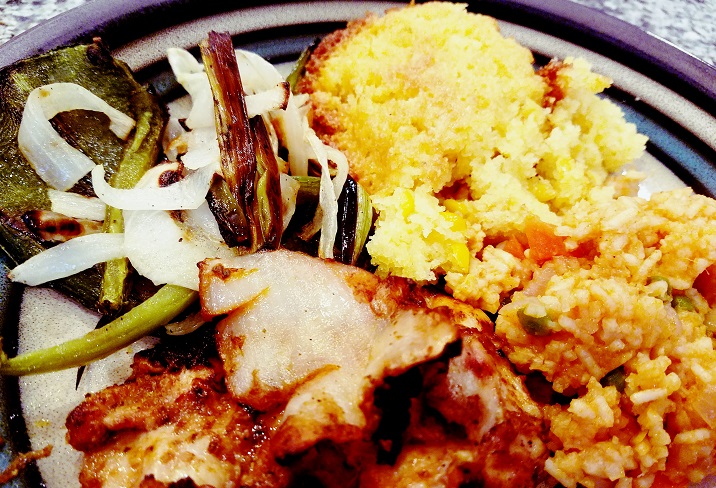 One of my favorite things to do is try to recreate an exceptional dining experience at home. In fact, much of what I cook is inspired by dishes I eat in restaurants. I give myself bonus points if I can improve on the healthiness factor by cutting back on sodium, fat, and/or sugar.
This post contains affiliate links. See my disclosure policy for more details.
The chicken in this meal was inspired by the Chicken Adobado at El Mirador in Northglenn, CO. El Mirador is the best Mexican restaurant that I've been to since I moved to Colorado. Being born and raised in California, I'm pretty picky when it comes to Mexican food. To be honest, if I had to limit myself to just one cuisine for the rest of my days, it would be Mexican food. I love everything I've eaten at El Mirador – Molcajete "El Mirador" Style, Carne Asada, Chiles Poblanos, Carnitas, and don't even get me started on their salsa. That is one recipe I'd love to have. I'm seriously considering applying for a job there just so I can steal it!
The sweet corn cake is a throw back to one of my childhood favorites from El Torito. I remember ordering a combo plate just so I could have the sweet corn cake. Sadly, they only gave you about a tablespoon of that amazing stuff. However, it is really easy and cheap to make and you can be as generous with it as you like when you make it at home! The sweet corn cake helps temper the spiciness of the chicken and the peppers. It's definitely worth including in this meal.
This Mexican rice is a staple in my house – I serve it just about any time I make tacos, enchiladas, or other Mexican fare. My step-daughter says it is her favorite thing that I cook and she would eat it for breakfast, lunch, and dinner!
The peppers – well, they are the veggies. Because you should eat veggies with every meal, right?! And because I love spicy food. Poblanos and jalapeños are a dice roll when it comes to the hotness factor. If chili peppers don't get enough HOT sun or if they get too much water, they don't get very spicy. When you buy them from the grocery store, you really don't know what you're in for. I typically overbuy – heck, they're super cheap, so why not? That way, if there are a couple of duds, I usually have a few super spicys to make up for it. (Sidebar: the mild chilis are great in omelets and scrambles)
Now…On to the recipes!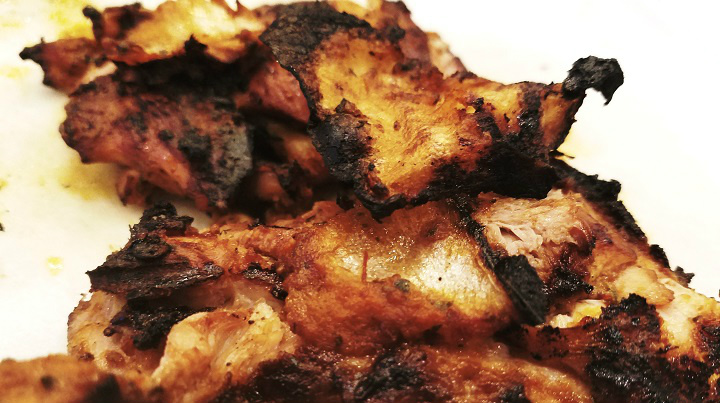 Adobo Chicken Recipe
Ingredients
4-6 Boneless, Skinless Chicken Thighs
1/2 Can of Herdez Chilpotle Peppers (Don't use the whole can unless you REALLY like to feel the burn!)
1/4 Cup Lime Juice
1/2 White Onion
2 Garlic Cloves
2 TBS Fresh or 1 TBS Dried Cilantro
1 TBS Olive Oil
2 TSP Paprika
1 TSP Cumin
1/4 Cup Water
Dash of Sea Salt
Directions
Puree all ingredients (except for chicken) in a blender or food processor. I used 2 peppers and 1 TBS of the sauce from the can of Herdez Chilpotle Peppers. Freeze the unused portion in a Ziploc and use it later. Pour mixture over chicken and marinade for 4-12 hours. Grill chicken over medium-high heat until done, about 5-7 minutes per side.
Tip: If the white onions don't break down in the blender, don't worry about it. Just throw them on the grill with the chicken. #BONUS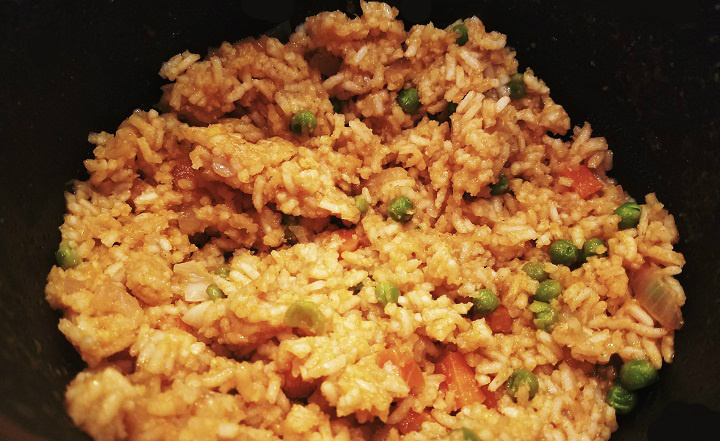 Mexican Rice Recipe
Ingredients
1 Cup White Rice
2 Cups Reduced Sodium Chicken Broth
1/4 Cup Chopped White Onion
1 Carrot, chopped, steamed or boiled until just softened
1/4 Cup Peas
1 TBS Olive Oil
1 TSP Lawry's Garlic Salt
1/2 TSP Cumin
2 TBS Tomato Paste or 1/4 Cup Tomato Sauce
Directions
Thoroughly rinse rice in a fine mesh sieve and shake to remove excess water. (This helps remove arsenic, which can be found in high levels in some rice.) Heat oil in large saucepan over medium heat. Add onion and rice. Cook for about 4 minutes, stirring constantly. Add garlic salt and cumin. Cook another 1-2 minutes. Stir in tomato paste or tomato sauce and chicken broth. Bring to a boil. Add steamed carrot and peas. Reduce heat to low, cover, and simmer for 20-25 minutes. Fluff with a fork before serving.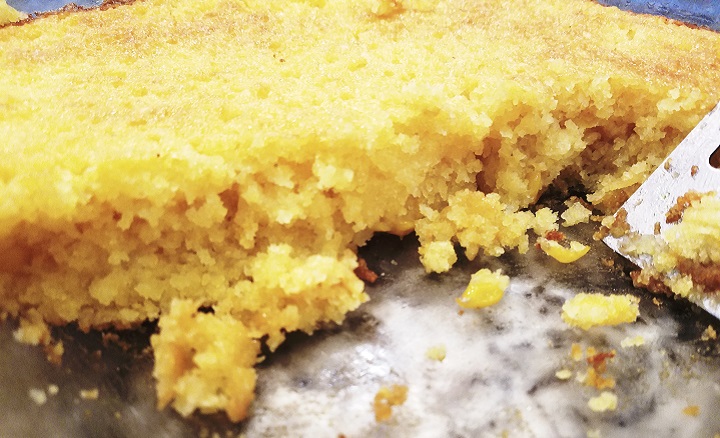 Sweet Corn Cake Recipe
Ingredients
1 Box Jiffy Corn Muffin Mix
1 Can No-Salt Cream Style Corn
1 Egg
2 TBS Unsalted Butter, melted
1/2 Cup Sugar
Directions
Preheat oven to 350°. Mix all ingredients until combined. Batter will be a little lumpy. Bake in a lightly greased 8×8 pan for 40-45 minutes or until top is lightly brown and the center is set.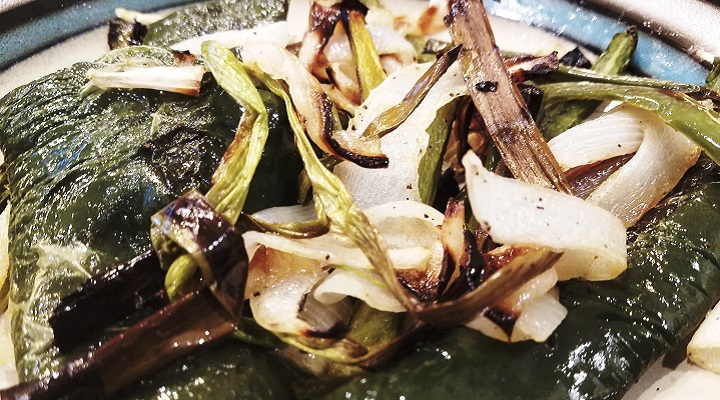 Roasters Peppers and Onions Recipe
Ingredients
3 Poblano Peppers
3 Jalapeños
5 Green Onions
1 White Onion
1 TBS Olive Oil
Salt and Pepper
Directions
Cut tops off poblanos and jalapeños. Remove seeds and membranes then slice into strips. Cut roots off green onions. Slice white onion into strips. Toss with about a tablespoon of olive oil and sprinkle lightly with sea salt and fresh ground black pepper. Bake in 425° oven for about 15 minutes or until veggies are soft and lightly browned.
Sign up for my email newsletter to get recipes like this delivered to your inbox!
6