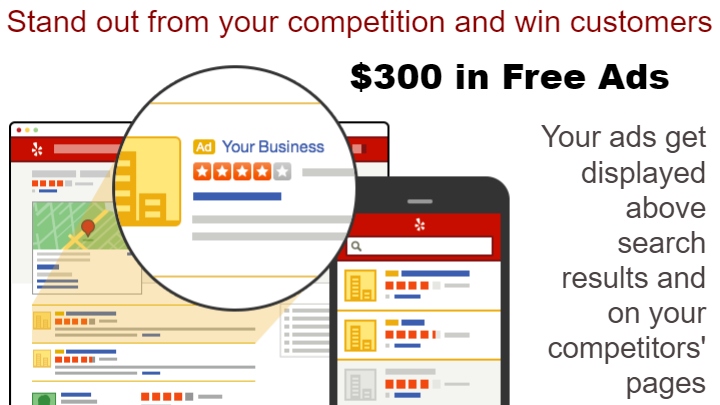 Keeping your business growing is a constant work in progress. Whether you own a restaurant, are a hairstylist, operate a mobile dog grooming service, do landscaping, house cleaning, tutoring, are a photographer, or just about anything else, getting new customers is essential.
When you set up with Yelp, your ads get displayed above search results and on your competitors' pages on both web and mobile platforms. This is a great way to put your business in front of people who are looking for the service you offer when they are in the market for it! You can't get targeting like that with flyers or mail.
Some Yelp Fun Facts:
Yelp is the #1 ranked review site for finding local businesses.

Millions of users go to Yelp each month to find great local businesses.

92% of consumers make a purchase after visiting Yelp at least sometimes, frequently or almost always.

You have complete control over your average daily budget, so you can spend what you're comfortable with.

Get started with as little as $5/day.

OH, YEAH! AND $300 WORTH OF FREE ADS! 🙂

Not ready to start running ads? Set up a Yelp page for Free. Upload photos, respond to reviews, update your business info, and more.

See what's happening on your page in real time. Track clicks, calls, page visits – and learn more about your potential customers.

Ready to dive right in? If you sign up through this link, you'll get up to $100 worth of bonus Yelp Ads each month when you spend $300 or more. Promotion lasts for up to 12 months from date of redemption!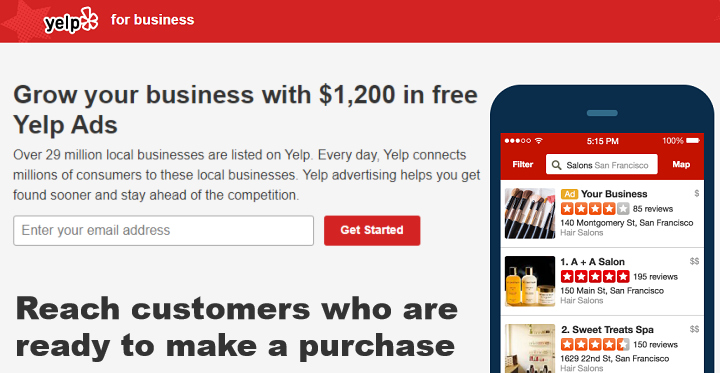 If you don't own a business, but know a business owner, take a minute to share this page with them using the tools below!
Sign up for my email newsletter to get tips like these delivered to your inbox!

55