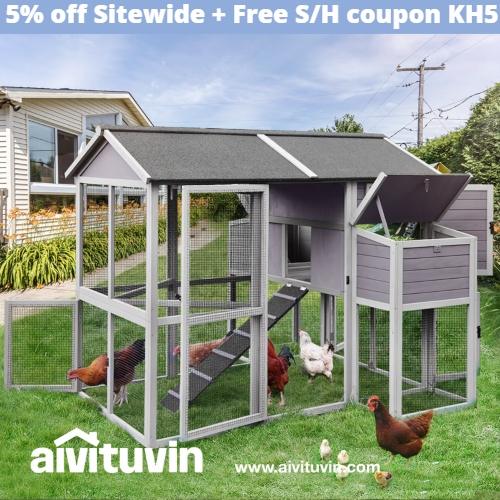 With over 20 years of experience in designing, creating, and producing premium outdoor pet homes, Aivituvin is a leading manufacturer in the pet home industry. Aivituvin believes that your pet should live in luxury and comfort. Their pet homes are extremely spacious, giving your pet ample space, they are made from real wood, and they're environmentally efficient with a modern, fresh finish.
Each home is uniquely stylish, durable, and expertly crafted in their family-run factory using the highest quality materials. The care they put into creating each home ensures superior product quality, beautiful design, quick assembly, and affordability.
Aivituvin has homes for all kinds of small animals, including rabbits, cats, dogs, hamsters, guinea pigs, & ferrets, tortoises & reptiles, birds, and more. They even have outdoor chicken & duck coops with large covered runs that can fit up to 15 hens!
In addition to their top quality pet homes, Aivituvin also offers beautiful garden boxes, potting benches, and a super cool kids sand box with a canopy and foldable bench seats.
Get 5% off Sitewide at Aivituvin using coupon KH5. Be sure to check out their sale items, which are already up to 30% off. All orders ship Free – No minimum purchase required! All products come with a 30-day satisfaction guarantee.
15