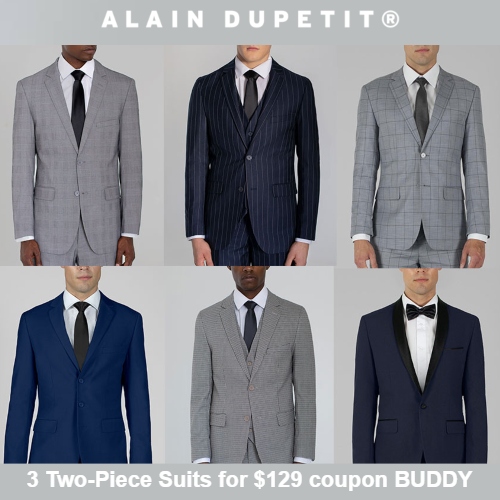 Alain Dupetit sells wholesale men's suits to the public at extremely affordable prices. Alain Dupetit studied tailoring at Lycée Polyvalent Paul Poiret and has been designing and manufacturing suits for over 40 years. To date, Alain Dupetit still handpicks fabrics from Italy and carefully oversees every step of production from lapels to pockets, every inch and style of his designs have his signature.
Alain Dupetit firmly believes that the best, most stylish suits should be accessible to everyone at an affordable price, and that looking your sharpest should not cost a fortune. His suits are high quality, very stylish, and they come in many different styles, colors, and sizes.
Get 3 Two-Piece Suits for $129 at Alain Dupetit using coupon BUDDY. All suits come with a 14-day return policy.
7