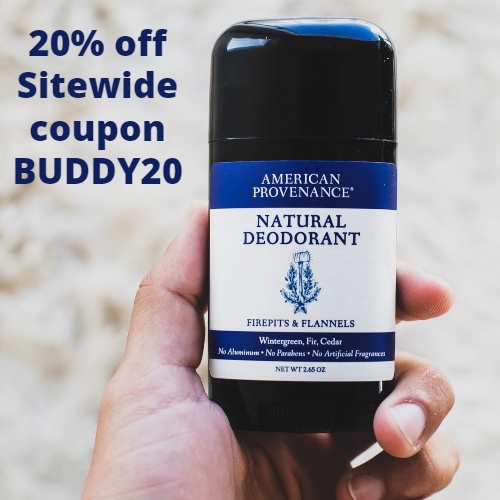 American Provenance offers top quality, handmade personal care products for men and women that are safe, effective, and formulated with all-natural ingredients. They use folk remedies and traditional applications, mixed with modern technology and knowledge to produce some of the world's best personal care products.
American Provenance uses only the highest quality natural ingredients that are free from preservatives, synthetics, cruelty, and words you can't pronounce, let alone know what they are for. Their products are formulated with plants that are known to help protect, soften, soothe, and restore skin. Some of their ingredients and benefits include:
Argan Oil – Reduces the appearance of age spots, helps to prevent premature aging, protects against sun damage, helps prevent stretch marks, tones skin, soothes razor bumps & razor burn.
Arrowroot Powder – Absorbs excess wetness & oils and leaves skin feeling smooth.
Beeswax – Seals in moisture and protects skin without clogging pores. Conditions, calms, and soothes skin & lips.
Coconut Oil – Helps smooth and retain moisture in the skin. High in lauric acid, it acts as an antimicrobial and disinfectant. High in Vitamin E, it promotes healthy skin growth and repair of damaged skin. Also prized for its anti-aging properties. Rich in proteins, it helps keep skin healthy and rejuvenated, as proteins contribute to cellular repair and maintenance.
Essential Oils – Therapeutic-grade, pure and simple botanical scents, without any harsh or synthetic chemicals. Can act as a positive aromatherapeutic part of your day; can be either invigorating or calming.
Hazelnut Oil – This skin astringent helps manage sebum secretion, is pore reducing, good for acne-prone skin, softens and calms skin, and is good for hypersensitive skin.
American Provenance products are not only safe & effective, they smell great, too! They're known for their intriguing variety of essential oil formulated signature scents, like Fastballs & Fisticuffs (Lemongrass, Bergamot, Marjoram), Firepits & Flannels (Wintergreen, Fir, Cedar), Horseshoes & Hand Grenades (Ylang Ylang, Bergamot, Clove), Pinups & Paramours (Coriander, Mandarin, Tangerine), and Shotguns & Shenanigans (Peppermint, Cypress, Eucalyptus).
Their product line includes their bestselling deodorant, shave & beard care products, hand soap & sanitizer, face serums & masks, body oil, body wash, lip balm, hair pomade, and more.
Get 20% off Sitewide at American Provenance using coupon BUDDY20. Shipping is $4.99 or Free on orders of $25 or more. All orders come with a 30-day satisfaction guarantee. Coupon is not valid on "Build Your Own Box" orders.
More about American Provenance –
American Provenance is a company born out of necessity. After years buying personal care products filled with countless chemicals, additives, and artificial fillers, they decided they could do better. The founders were always "do-it-yourself" kind of people, so they began making their own aftershave, cologne, deodorant, pomade, and beard balm. In 2015, they made their products available to the public.
American Provenance holds themselves to a high standard. Their operations are transparent, they don't have a parent company, they don't rely on expensive packaging, misleading advertising, fine print, or celebrity endorsements. All of their products are hand-made in small batches to ensure both quality and consistency without the addition of metals, petrochemicals, sulfates, parabens, phthalates, artificial ingredients, artificial colors, artificial fragrances and artificial preservatives.
3