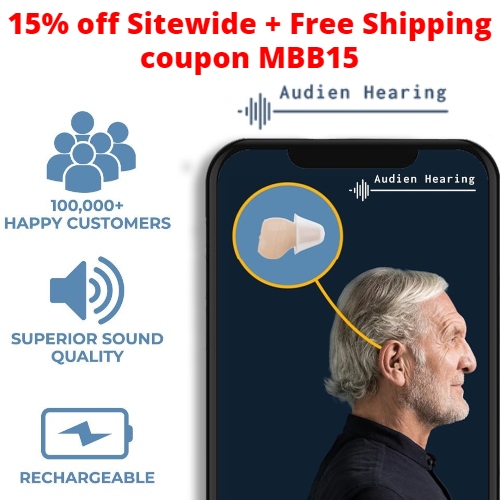 Audien Hearing offers high quality rechargeable hearing aids that won't break the bank. When founder, Arthur Garber's grandmother started experiencing hearing loss he searched everywhere for an affordable solution. What he found was that even though the typical pair of hearing aids costs $100 or less to produce, the market price runs from $4,000 to $6,000 a pair! So he set out to change that.
Today, Audien Hearing is proud to provide some of the best hearing aids at a fraction of the cost that most clinics charge. By delivering the hearing aids straight from the factory to your doorstep, they are able to offer some of the lowest prices on the market, allowing you to skip waiting for insurance approval, hassling with appointments, or dipping into your hard-earned savings to get a pair of quality hearing aids.
Audien's hearing aids provide perfectly balanced hearing. They amplify speech while reducing background noise, making it easier for you to hear people speaking, even in noisy settings.
Their patented comfort design & proprietary material provides an enhanced fit and allows the hearing aids to comfortably float inside your ears. They are sleek, small, and virtually invisible, so no one will even know you're wearing them!
They have four different models to choose from, so you can pick the hearing aid that is just right for you. They start at just $89 and all models are 100% rechargeable, eliminating the need for expensive replacement batteries.
Get 15% off Sitewide at Audien Hearing using coupon MBB15. All orders ship Free – No minimum purchase required! All hearing aids come with a 45-day money back guarantee and a 1-year warranty.
Audien's hearing aids are manufactured in an FDA-registered facility, so you can rest assured you're getting a safe product.
9