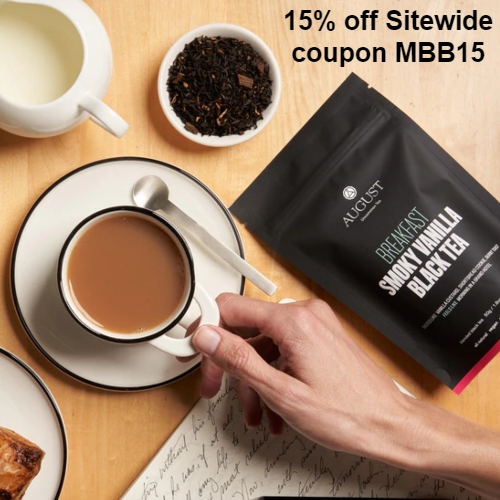 Have you always wanted the health benefits of drinking tea but need something with a bit more flavor? Or maybe you love tea but you're getting bored with the same old blends? August Uncommon Tea can help!
Their flavorful and unique blends are anything but boring, so you can swap the sugary sodas & sports drinks for something that tastes just as good and is also good for you! August's wild tea blends give you the bold taste you crave, while still being packed with all the antioxidants, polyphenols, catechins, L-theanine, and other good stuff tea is known for.
August Uncommon Tea offers over 30 great flavors, so you'll never find yourself in a tea rut again! Some of their most popular flavors include –
Low Country – Strong black tea with bourbon and burnt sugar notes
Passage – Rich black tea with hazelnut and chocolate
Combray – Creamy organic green tea with vanilla and cardamom
Biarritz – Velvety rooibos with amaretto and orange blossom
Jet Black – Rich black tea with roasted mate and espresso bean
Can't decide which flavors to try first? Check out their samplers. You can try their best sellers with the Top 10 Sampler or try every tea they make with the All the Teas Sampler. Each sample box includes a deluxe 4-cup sample bag of each flavor and a measuring scoop.
August Uncommon Tea also offers premium teaware, including tea brewers, mugs, infusers, tea scales & timers, and more.
Get 15% off Sitewide at August Uncommon Tea using coupon MBB15. Shipping is $4.99 or Free on orders of $34 or more.
August Uncommon Tea is so confident that you'll love their tea that they offer a 30-day love it or your money back guarantee. If you don't absolutely love the tea you ordered, just let them know and they'll issue a refund! Limit 1 refunded item per blend & 4 refunds (or $85) per customer per 12-month period. Excludes Tins, 70 cup bags, All the Teas Sampler, Dirty Chai gift set, and all teaware.
2