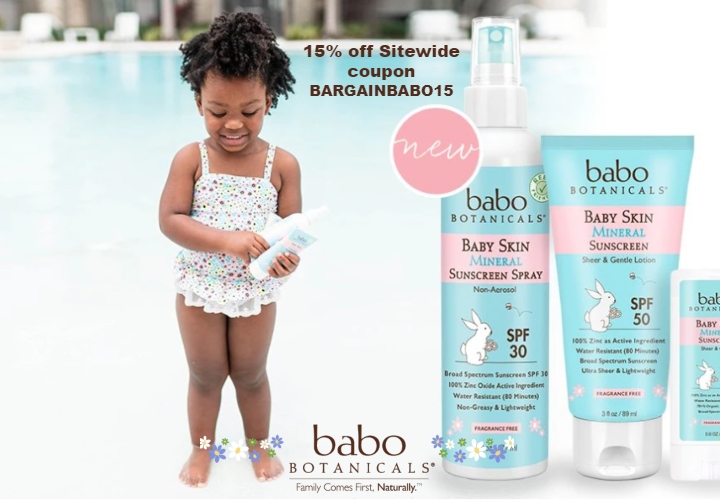 It seems that in the blink of an eye, the summer sun arrived. These warm sun kissed months are ideal for spending precious family time in the beautiful outdoors. While most of our focus is on staying safe from Covid-19, we can't let our guard down when it comes to sun protection.
Babo Botanicals is a certified B Corp, dedicated to formulating the safest and most natural skincare products for all skin types. Their mission is to provide the purest and highest quality skin and hair care products on the market, using only botanical and mineral ingredients.
Did you know your baby's skin will be developing until the age of four? Their tender skin is much more vulnerable than big-kid or grown up skin. Experts recommend introducing sunscreen by the time they turn 6 months of age to protect their skin health for the long term. Keeping that delicate skin in mind, you'll want to be sure what is applied has only the safest ingredients, avoiding harsh irritating chemicals.
Babo Botanicals is known for their mineral sunscreens, formulated specifically for even the most sensitive skin. Made up of only the finest botanical and mineral ingredients, their formula is hypo-allergenic and dermatologist approved. Free from toxins means you can be free from worry while you and your little ones are having fun in the sun.
Babo Botanicals' products have expanded to suit the needs of everyone in your family. With a broad range of personal care products made with safe, gentle ingredients, they have natural solutions for all hair and skin needs. From shampoo and conditioner, to stretch mark treatments, and even lice prevention, you're sure to find just what your family requires. If you've been looking to make the switch to cruelty-free makeup, Babo Botanicals offers a line of clean beauty products, with pigments formulated from minerals (not dyes)!
Safely nurture your skin and the skin of the ones you love with Babo Botanicals. Feel the difference a natural approach can make. For a limited time, you can get 15% off sitewide using coupon BARGAINBABO15. Shipping is Free on orders over $39.95.
Sign up for my email newsletter to get tips like this delivered to your inbox!
4