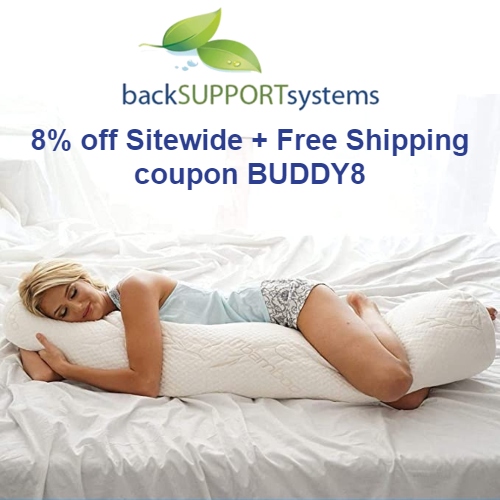 Back Support Systems features an exclusive line of back support products that help improve sleep and reduce pain. Their innovative, patented, healing products enhance your quality of life with cutting-edge memory foam technology that helps you get a full night's sleep and wake up refreshed.
Whether you have back pain, neck aches, sleep related earaches, trouble sleeping, or you're just looking for effective memory foam products, Back Support Systems has a product for you! Some of their top sellers include –
The Angle is guaranteed to help reduce back pain. It reduces the discomfort of lower back pain due to herniated or bulging disc, arthritis, edema, phlebitis, sciatica.
Knee-T is perfect for people with knee injuries, bunions, hammer toe, corns, or any ankle or foot injury. It also aligns and reduces stress on hips and joints.
The Wedge helps reduce acid reflux, correct neck and spine alignment as well as reduction in snoring.
Memory Foam Pillows in a variety of shapes and sizes, including standard pillows, neck rolls, side sleeper ear pillows and more.
Orthopedic Dog Beds designed to help relieve pressure, ease arthritis pain, hip dysplasia issues, joint inflammation, and other ailments.
Get 8% off Sitewide at Back Support Systems using coupon BUDDY8. All orders ship Free – No minimum required.
Back Support Systems has been a green company since day one! All products are eco-friendly, made in the USA, non-toxic, third-party verified clean, and LOW-VOC.
2