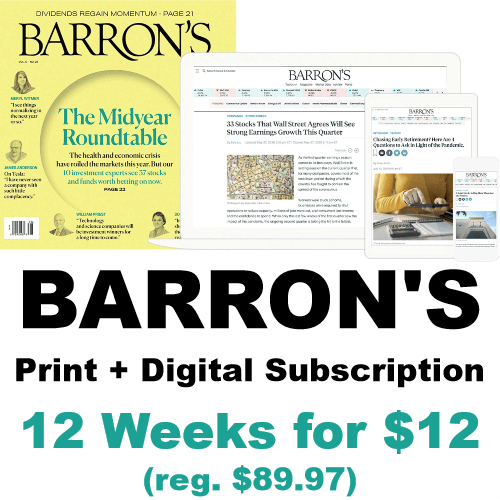 The most sophisticated investors in America, whether they are managing their own money or their clients' assets, turn to Barron's for market perspective and investing ideas. Barron's provides an accurate understanding of what's happening in the markets during the trading day, coupled with insights into what's likely to happen in the markets in the weeks to come.
Subscribe today and pay just $12 for your first 12 weeks to get all the coverage you need with their print + digital package, including –
Saturday Home Delivery: Start planning for the week ahead with their iconic Saturday print edition
Daily Access to Barrons.com: Navigate global markets with real-time analysis and commentary from some of Wall Street's best minds
Mobile and Tablet Apps: Manage risk and protect your investments when it matters most
After 12 weeks is up, this subscription is $29.99 + tax per month thereafter. You can cancel any time. Their "digital only" subscription is also 12 weeks for $12. Additionally, you can opt for a 6- or 12-month subscription and save 50% when you pay upfront.
2