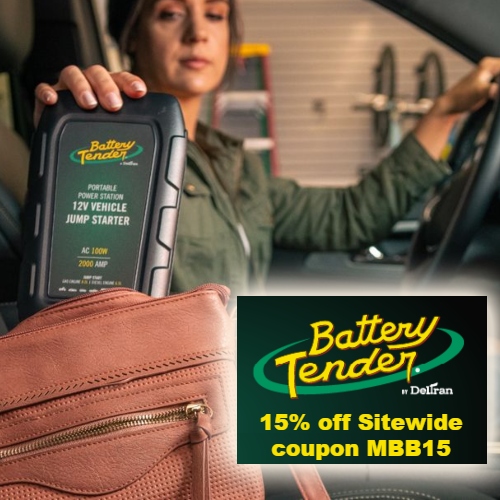 Since 1965, Deltran Battery Tender has taken great pride in designing, manufacturing, and distributing products that automatically maintain the batteries in your vehicles so they are ready to go when you are.
Battery Tender Chargers will fully recharge and then maintain a battery at its proper storage voltage without the damaging effects caused by trickle chargers.
Battery Tender Jump Starters are safe and easy to use with motorcycles, cars, SUVs, trucks, and RVs. Most are small enough to fit in a center console or glove box.
Battery Tender Inverters provide the mobile capability to deliver electric power for AC appliances when there is no traditional AC power outlet available.
Looking for green power? Check out their line of solar products – You'll find battery chargers and panel controllers that are perfect for on-the-go.
Get 15% off Sitewide at Battery Tender using coupon MBB15. Orders over $99.95 ship Free.
1