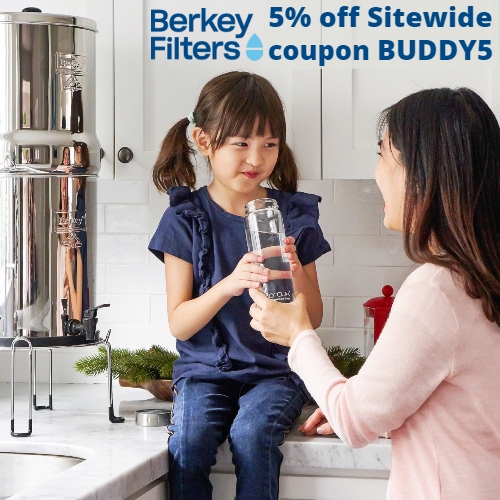 Many water filters claim to purify water, but fail to meet EPA standards. Berkey Filters remove bacteria and viruses that conventional filters don't. In fact, they remove 99.9999999% of pathogenic bacteria and 99.999% of viruses, which greatly exceeds current standards. Their filters use a natural absorption, adsorption, and microfiltration process to remove over 200 harmful contaminants, so you rest assured that the water you are drinking is safe.
Berkey Water Filter Systems are super easy to use and they don't require electricity because they are gravity-fed. Simply pour water into the upper chamber of the unit, and by the time it reaches the lower chamber it is ready for drinking! Berkey Filters can purify water from almost any source, so in addition to being perfect for your home & office, they're great for traveling, camping, and emergency situations, too.
Berkey Water Filter Systems come in multiple sizes, so there is a system for any need – from a small household to a large office. Systems include: Travel Berkey 1.5 Gallon, Big Berkey 2.25 Gallon, Berkey Light 2.75 Gallon, Royal Berkey 3.25 Gallon, Imperial Berkey 4.5 Gallon, Crown Berkey 6 Gallon, and the Sport Berkey Water Bottle that's perfect for when you're on-the-go.
Get 5% off Sitewide at Berkey Filters using coupon BUDDY5. Be sure to check out their Bundle Sale – Items are up to $42 off before coupon! Shipping is Free on orders of $59 or more. All systems come with a 30-day money back guarantee.
Berkey Filters have been tested by several EPA-accredited laboratories, including the Department of Toxicology and Environmental Science at Louisiana University, Spectrum Labs, and the University of Phoenix. This extensive testing confirmed that the Berkey Purification Elements far exceed EPA and ANSI/NSF (Std. 53) protocol.
3