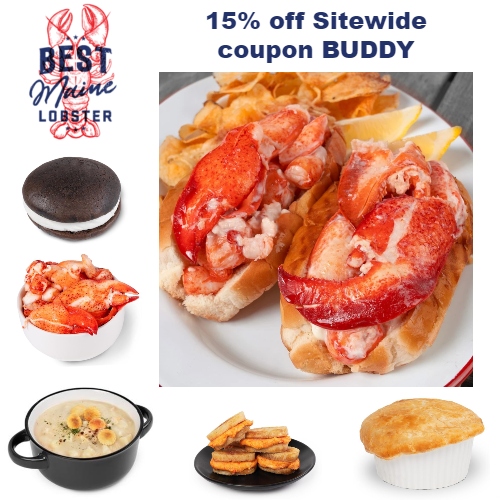 Best Maine Lobster was born from the realization that there are people all over the country whose ongoing yearning for Maine lobster has largely been suppressed. That is, until today…with Best Maine Lobster you can bring the best of Maine to your door anytime you feel the urge!
Best Maine Lobster freshly catches the lobster in Maine's cold waters, quickly prepares your order with care, and ships it to your door overnight, so you get the freshest Maine lobster possible, without actually going to Maine. 🙂
Their Lobster Roll Feasts are like taking a trip to a Bar Harbor lobster pound without leaving your kitchen! Each Best Maine Lobster roll boasts a full quarter pound of sweet claw and knuckle meat, ready to be enveloped by a fresh split-style roll. They come with real mayo, real butter, oversized portions of Maine's best potato chips, and yes, whoopie pies for everyone! You can upgrade your feast to include their other sides like The Best Clam Chowda, Lobster Mini Grilled Cheese Appetizers, Lobster Mac & Cheese, and Lobster Risotto on the Half Shell. Or you can build your own feast with their a la carte menu.
Best Maine Lobster's Lobster Roll Feasts step up your family celebrations. They're great for a date night in and they make wonderful holiday gifts!
Get 15% off Sitewide at Best Maine Lobster using coupon BUDDY.
About Maine Lobster –
Maine is especially known worldwide for one thing…its lobster. And for good reason. Maine produces the most lobster and undoubtedly, the world's best lobster. After all, for lobster connoisseurs, its Maine lobster or no lobster at all. Why? Because of the science. The best lobsters come from cold water, that is just cold enough. That explains why Maine is so famous for these crustaceans. But don't be fooled. Many online stores choose to sell Canadian lobsters because the colder water makes for a harder shell. That's good for them from a sales and cost standpoint, but not for lobster lovers. Lobster meat from a Canadian lobster is not nearly as sweet.
Maine lobster has long been a delicacy worth chasing. The first Maine lobster catch is said to have been recorded by James Rosier in 1605. The lobster industry exploded in the next century. Fast forward to today, when Maine lobster-fishers land between 100 and 150 million pounds of lobster each year. One bite and the reason for its popularity becomes immediately evident.
1