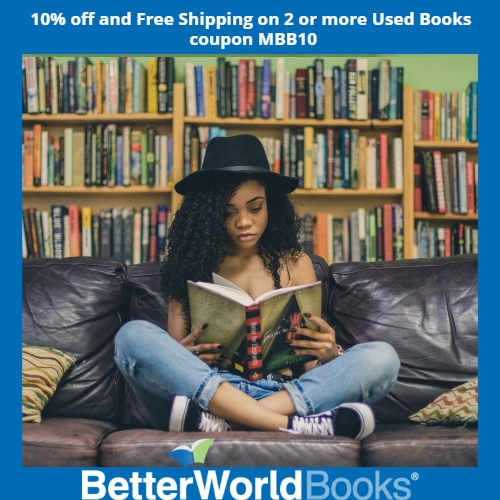 BettterWorldBooks is an award-winning global e-retailer that collects and sells used books online with a matching donation for each sale! They offer thousands of books for every age group and any genre you can think of. They have everything from children's books, fiction & literature, and graphic novels to how-to books, textbooks, and religious & self-help books and everything in between. They come in paperback, hardcover, large print, and multiple languages. Their used books are all in good to very good condition and extremely affordable.
Get 10% off and Free Shipping on 2 or more Used Books at BettterWorldBooks using coupon MBB10. Standard shipping is Free on all orders and expedited shipping is only $0.99.
Doing good is at the heart of BettterWorldBooks. They believe in the power of knowledge and their goal is to help those who supply it and share it with those who crave it. With every book purchase you make, BettterWorldBooks donates a book to someone in need.
Every order from BettterWorldBooks also has the option of being shipped carbon balanced for just a few cents extra. So far, they've reached 87,000 tons of carbon offsets on shipping.
4