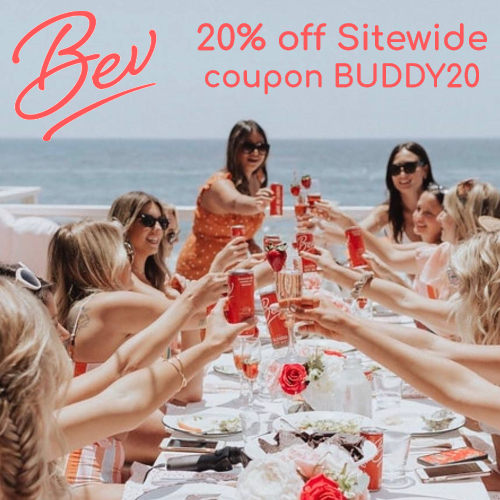 Bev is a women owned and operated company that offers delicious zero sugar canned wines. They designed their fermentation process specifically to remove all sugar after the alcohol is fermented. They are the first recognized TTB-approved canned wine to accomplish this! Each 8.4 oz can of wine contains only 160 calories and 3 carbs!
All Bev wines are crisp, dry, and a lil' fizzy, each with its own unique flavor –
Rosé – Crisp with aromatics of fresh strawberry and raspberry, paired with a crisp white peach finish
Blanc – Zippy with aromatics of crisp green apple, white nectarine, and a light, fresh citrus finish
Glam – The sparkling rose of your dreams with tasting notes of passion fruit, delicate red berries, and a white peach finish
Gris – Bright with light and refreshing notes of elderflower, pear, and a zesty grapefruit finish
Noir – A delicate, coastal pinot, with aromatics of citrus blossoms & fresh pomegranate, paired with a light blackberry finish
Can't decide which one to try first? Order the Bev Ladies' Night variety pack. It includes all the classic varietals Rosé, Blanc & Gris.
Get 20% off Sitewide at Bev using coupon BUDDY20. They'll even cover 2-day shipping! Coupon BUDDY20 can be used on one-time orders and will also apply to the first shipment on a subscription order.
10