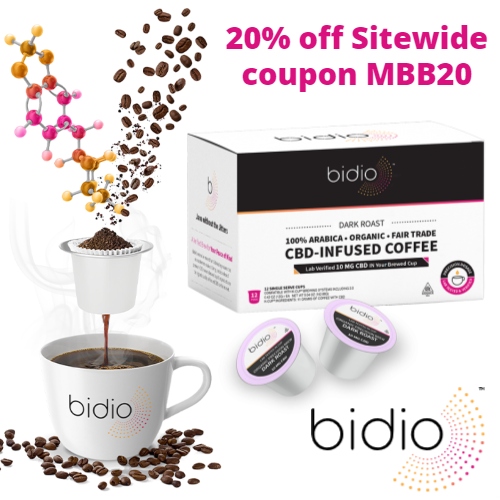 Bidio offers delicious, premium quality CBD infused coffees. From farm to cup, Bidio beverages combine the highest quality CBD on the market with the world's finest hand selected fair trade, organically grown, and certified kosher coffee.
Bidio was founded by a world renowned orthopedic surgeon who was interested in the uses of CBD in the healing process. As he tested existing CBD coffee products on the market, he was disappointed to find little to no CBD was actually found in the BREWED cup. Through exhaustive research and development, he was able to create a proprietary patent-pending process that ensures each cup of Bidio CBD-infused coffee delivers a precise CBD dosage in each and every brewed cup.
Bidio offers medium and dark roasts. Both roasts are made with a blend of 50% organic Peruvian beans and 50% organic Honduran beans. Both have low acidity and above average sweetness with rich hints of honey, almond, tangerine, peach caramel, & cocoa, for a smooth balanced finished. They come in your choice of 10mg or 25mg of CBD in each cup.
Bidio coffee comes in certified recyclable K-Cups that are made entirely of #5 polypropylene (PP #5), which is accepted in 75% of recycling centers in the USA. PP #5 also provides a superior moisture and oxygen barrier, which creates a longer shelf life.
Get 20% off Sitewide at Bidio using coupon MBB20. Shipping is Free on orders of $45 or more.
For extra savings consider a subscription! Each box comes with an automatic $6 discount before coupon.
2