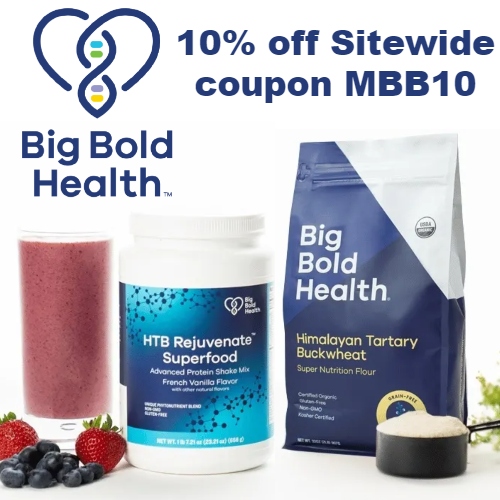 Big Bold Health offers immunity boosting supplements that are crafted with carefully sourced ingredients that benefit human health and planetary health to promote global immunity.
Your immune system is one of your body's most important systems! As we age, we can accumulate damaged immune cells, which can cause fatigue, disrupted sleep, skin issues, allergies, stress, mood imbalance, brain fog, and an overall lack of vitality.
Big Bold Health's HTB Rejuvenate supplement can help! It is a unique blend formulated with Himalayan Tartary Buckwheat to support immune response.
Himalayan Tartary Buckwheat is an ancient food crop that has been used medicinally for centuries. Modern technology has recently revealed its unique nutrient characteristics, including phytochemicals (basically the compounds that make a plant) are effective in promoting healthy immunity, blood sugar levels, metabolism & muscle health, and rejuvenation of cells.
HTB Rejuvenate contains a portfolio of phytonutrients that naturally occur in Himalayan Tartary Buckwheat. In fact, it has almost 600mg of immune-active plant polyphenols like quercetin, rutin, luteolin and hesperidin per serving.
Other supplements at Big Bold Health include Skin & Eye Health soft gels, HTB Rejuvenate Superfood Protein Shakes, Himalayan Tartary Buckwheat Super Nutrition Flour, and Omega-3 Rejuvenate soft gels.
Get 10% off Sitewide at Big Bold Health using coupon MBB10. Shipping is Free on orders of $100 or more. Coupon is not valid on subscription orders.
All ingredients are ethically & sustainably sourced and Big Bold Health is active in funding small family farms & regenerative agriculture.
What is global immunity? – Did you know that soil, the sea, the sky, and all living things on this planet have an immune system? This is "Global Immunity", and your immune system depends on it. Big Bold Health believes in the power of immuno-rejuvenation, you can create a healthy global immune system with the choices you make, the foods you eat and the air you breathe, to change your health and change the world.
1