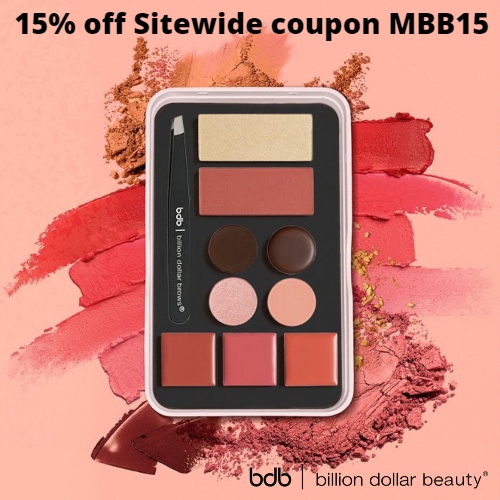 Billion Dollar Beauty is designed to reduce the huge amount of waste within the beauty industry. Every month beauty enthusiasts throw away perfectly good, half-used makeup palettes once their favorite colors are gone, not to mention all the waste from the packaging on most products! Billion Dollar Beauty has a solution – the Billion Dollar Box.
The Billion Dollar Box is a customizable, sustainable, and convenient solution to traditional makeup palettes. You can create the palette that speaks to you and choose from over 35 different makeup pans, including cosmetics for your brows, eyes, lips, and cheeks. Buy once, refill for life. The Billion Dollar Box cosmetic pans are sold without excess packaging, unlike traditional makeup palettes, and are made with 30% PCR plastic. The magnetic base holds each product in place, keeping your makeup mess-free and organized inside one box.
Billion Dollar Beauty provides a great range of top-quality cosmetics in tons of beautiful & vibrant colors and all products are vegan, cruelty-free, and paraben-free.
Some of their best-selling products include:
Brow Pomade – Their buildable pomade fills, shapes and defines your brows. It's designed to have a powder-like appearance with pencil-like precision.
Brow Powder – Their brow powders go on smooth and natural, providing a brilliant sheen of color.
Eyeshadow – Their lightweight eyeshadow glides on and provides beautifully deposited pigment. This formula is perfect for blending to create a custom eyeshadow look.
Lip Balm – These creamy lip balms offer the perfect pigment your lips are craving. Their velvety formula glides on for a smooth application.
Blush – Brighten your complexion with their iconic pressed-powder blushes that complement all skin tones.
Highlighter – Their soft and silky highlighters blend and build flawlessly on your skin for the perfect glow.
New to Billion Dollar Beauty? Check out their Starter Kit. It includes the Billion Dollar Box, brow powder, eye shadow, lip balm, charcoal infused makeup brushes, and stainless-steel professional grade tweezers. A $139 value, it's just $42.50 + Free Shipping with coupon MBB15.
Get 15% off Sitewide at Billion Dollar Beauty using coupon MBB15. Shipping is $5 or Free on orders of $40 or more. Orders over $50 come with a Free Mini Universal Brow Pencil ($10 value). All products come with a 30-day money back guarantee. Coupon is not valid on subscription orders.
4