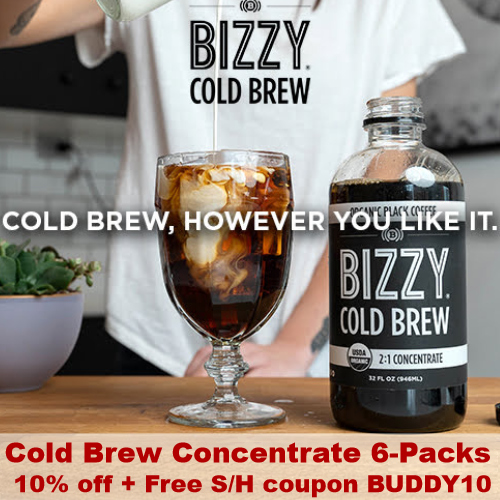 Bizzy Coffee provides healthy, convenient, and cost-effective cold brew coffee concentrate that allows you to make coffee shop quality beverages at home. Bizzy Cold Brew Concentrate is hand crafted in their brewery, using only the best quality, organic and ethically sourced Arabica coffee beans from Central and South America. Using their unique cold-brewing process, their cold brew concentrate comes out perfectly strong, smooth, and delicious.
It's the perfect base for making any type of coffee beverage, just pour it over ice or hot water and add the ingredients of your choice. It mixes great with almost anything! You can add it to a smoothie, make a hot coffee or latte, mix it with cocktails, use it in baked goods like brownies or pancakes, or even use it to make popsicles! It would also be great for the office, camping, road trips and parties.
Bizzy Cold Brew Concentrate is super convenient. It's ready when you are, you don't have to wait for your coffee to brew, spend time trying to make your own cold brew or wait in long lines at the coffee shop. It will also save you a ton of money! Each 32 oz. bottle makes 12 cups of coffee – making it only 63¢ per cup with coupon BUDDY10. That's a lot better than paying 5 bucks or more at a coffee shop!
Get 10% off 6-Packs of Cold Brew Concentrate at Bizzy Coffee using coupon BUDDY10. Priority shipping is Free. Coupon is not valid on subscription orders.
2