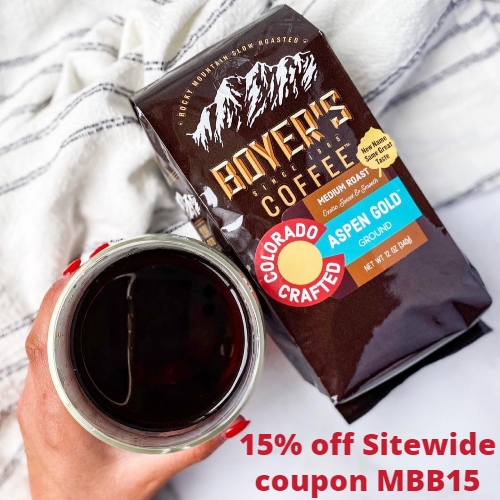 Boyer's Coffee has been slow roasting premium coffee in the Rocky Mountains since 1965. Colorado's high altitude and low humidity combined with Boyer's small batch slow roasting process creates a roasted coffee bean with a flavor second to none – smooth, fresh, and delicious.
Boyer's Coffee uses only the finest hand-selected Arabica beans chosen from elite coffee-growing regions around the world. The beans are grown exclusively at high altitude, giving them a body and density that have a distinct flavor and aroma. Their roasting team roasts & cools the beans slowly and evenly, giving them Boyer's signature, smooth taste. Every batch of coffee is taste tested to ensure quality every single time.
Boyer's Coffee is available in light, medium, and dark roasts, with a selection of organic coffee, specialty Mash-Up blends, and tons of delicious flavored coffees, like Hazelnut, Butterscotch Toffee, Chocolate Mousse, French Vanilla, Southern Pecan, Swiss Mocha Almond, Chocolate Cherry, and Coconut Cream.
They offer bagged coffees in your choice of whole bean or medium ground, as well as Keurig compatible single-serve cups.
Sick of bad coffee at the office? Boyer's Coffee Packets (frac packs) are the perfect office coffee solution! Each packet is pre-ground and perfectly measured for a pot of coffee. They are great for home use as well, especially when you have multiple coffee drinkers in the household.
Get 15% off Sitewide at Boyer's Coffee using coupon MBB15. Shipping is Free on orders of $75 or more.
Be sure to check out their gift sets. They are specially curated with top-selling Boyer's roasts. They would make a great gift for any coffee lover!
5