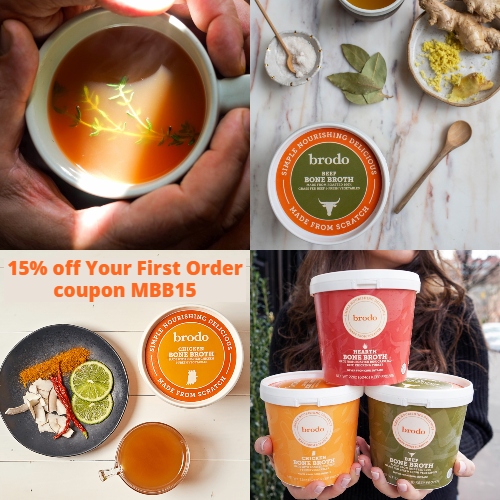 For centuries, cultures around the world have used bone broth as a healing elixir for a variety of ailments. In recent times, scientists have learned more about the specific things within a well-made broth that make your body function better. Bone broth can heal the digestive tract, relieve arthritis, fight infections, build strong bones & strengthen joints, promote glowing skin and hair, support the liver in detoxing the body, help the body absorb protein, and reduce inflammation overall.
Brodo bone broth is one of the best! Their cooking process and high quality ingredients ensure you get the maximum benefits of drinking bone broth. And unlike some broths that are watery or have a weird flavor, Brodo's chef created bone broths are delicious and satisfying – you will actually enjoy drinking them!
Brodo gets all of their bones from cooperatives and family farms. Their beef bones come from 100% grass-fed animals raised on pasture. Their poultry (chicken and turkey) are certified organic, fed a vegetarian diet free of GMOs, chemical fertilizers, and pesticides, and both are free of antibiotics and hormones. They also incorporate fresh whole-cut organic vegetables for better flavor and more well-rounded nutrition.
Not a meat eater? You can still get the benefits of their broth with Brodo's boneless broth. It's made from wild seaweed, mushrooms, and organic vegetables and is 100% vegan!
Brodo broths are a great meal replacement, even better than other drink-based diet regimens. They have more protein and fewer carbs than green juice and are less likely to cause blood-sugar levels to spike. A steamy, rich cup of Brodo Broth satisfies your craving for comfort foods – without all the carbs! It only has 5g per cup, so you get all the savory satisfaction of Mom's usual meat-and-potato staples, without the guilt!
Brodo broths comes in four delicious flavors:
Organic Chicken – Clean and classic with the comfort of Grandma's cooking
100% Grass-Fed Beef – Grass-fed goodness gingered just right
Brodo's Signature Hearth Bone Broth – Smooth rich & savory. Chef Marco's signature blend of chicken, turkey and beef broth
Vegan Seaweed & Mushroom Broth – 100% vegan. Made with organic seaweed, organic vegetables, and shiitake mushrooms. This broth was named favorite vegetable broth by Epicurious in a test of 12 brands!
Brodo broth is sold in 6, 10, 20, and 30 pack bundles. You can build your own bundle or choose from one of their ready-made bundles. For the best deal, consider a subscription, you can save up to $20 per order!
Get 15% off your first order at Brodo using coupon MBB15. Coupon is valid on one-time orders and will also apply to the first shipment on a subscription order. Shipping is $9.99 or Free when you buy a bundle of 10 or more.
Benefits of Brodo's broth –
A well-made broth offers all the benefits of meat without the bulk. Brodo's broth is loaded with protein (10 grams per cup of beef or signature Hearth broth; 7 grams per cup of chicken broth) and delivers it in a way that your body can rapidly absorb. In liquid form, these proteins are broken down into valuable amino acids like proline, glycine, glutamine, and arginine. Your body needs these important building blocks for healthy skin, bones, and joints.
Brodo is one of the best things you can consume to maintain a healthy gut, which is essential to overall wellness. The gelatin in Brodo contains glutamine, which effectively plugs the holes in the lining of the digestive tract like spackle on a pitted wall. The gelatin also helps during digestion, making it easier to break down food and absorb nutrients.
Brodo brings out the real, beautiful you. Healthy skin requires collagen, a crucial protein found in the tendons, ligaments and other odd bits of the beef and poultry they use. When the cones are cooked, that collagen breaks down into gelatin, which is easier for the body to digest. Drinking gelatin-rich bone broth is an easy, natural way to promote smooth, supple skin and strong hair and nails.
Brodo is a natural detox aid. The glycine in their broth supports your liver's ability to remove toxins, ranging from pesticides and mercury to prescription drugs and alcohol. Glycine is also a key building block for glutathione, a helpful antioxidant for anti-aging, fighting chronic disease, and cleansing your liver.
The cold-fighting power of a good chicken soup is not just some old wives' tale! A well-made chicken bone broth contains cysteine, an amino acid that has been shown to thin the mucus in your lungs and make it less sticky, so you can expel it more easily. A good broth also contains other immunity-boosting compounds like glutamine and carnosine.
1