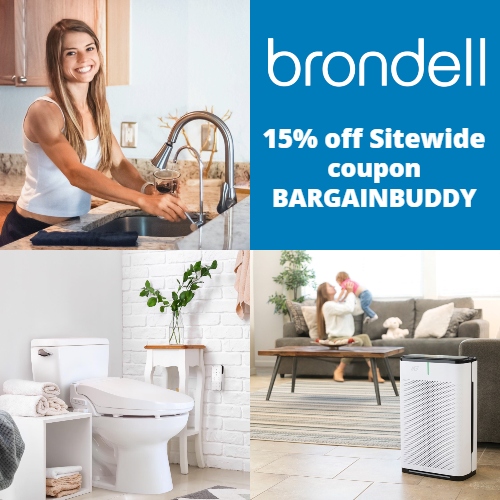 Brondell is a developer of innovative, high quality healthy home products that is committed to a healthier, happier you. From the air we breathe, the water we drink, and the body we keep, Brondell prides itself on leveraging the best technologies to deliver unique, healthy home experiences for anyone looking to improve the spaces and routines they engage with every day. Their product lines for the home and office bring you the best in modern health and hygiene.
Their award-winning family of wellness products includes:
Bidets
Good health starts with good hygiene. Brondell offers a wide range of bidet options that all have one thing in common: a hygienic clean you never knew you needed. Whether you want the convenience and portability of a travel bidet or a fully functional electronic bidet toilet seat, they've got you covered. Their Swash bidet luxury line of seats has several options available, including heated seats, unlimited warm water washes, and a warm air dryer. Some of the seats even offer programmable settings and wireless remotes. A range of bidet attachments for existing toilet seats and hand-held bidet sprayers are also available.
Heated Toilet Seats
Never sit on a cold toilet seat again! Brondell's LumaWarm heated toilet seat offers features like adjustable temperature settings, an illuminating nightlight, and a gentle-closing lid. The only thing you'll ask yourself is why you waited so long!
Brondell Pro Sanitizing Air Purifier with AG+ Technology
Deleted: The newest technology in personal wellness, the AG+ Sanitizing Air Purifier featuring Aurabeat technology is the only personal air purifier in the world tested to eliminate and destroy the COVID-19 virus, along with other viruses like the flu. It cleans the air up to 3.4 times in one hour, eliminating more than 99.9% of COVID-19 in 30 minutes. It also eliminates bacteria, removes fine dust particles, odors, formaldehyde, and harmful gasses. AG+ technology is a game-changer when it comes to your health and well-being.
True HEPA Air Purifiers
Healthy air makes for a healthy home. Brondell's O2+ Air Purifiers feature a three-stage advanced filter system. The O2+ series eliminates allergens, such as dust, smoke, pollen, pet dander, mold, odor, and harmful VOCs. Certified True HEPA air filters remove 99.97% of particulates and allergens above 0.3 microns, while active carbon filters effectively reduce smoke, odor, and harmful off-gassing VOCs (including formaldehyde and benzene).
Water Filtration Systems
We all deserve clean, safe drinking water. Brondell's filtration systems, available in countertop systems and undercounter reverse osmosis (RO) water filter systems, can help ensure the water in your home is pure and delicious.
Shower Filtration
Maintain healthy skin while keeping your shower fresh and clean with Brondell's VivaSpring shower filtration products. Their filters reduce water contaminants like chlorine, lead, mercury, and copper with patented KDF technology, leaving your hair and skin feeling great. VivaSpring products also inhibit the growth of scale, algae, fungi, and bacteria.
Get 15% off Sitewide at Brondell using coupon BARGAINBUDDY. Shipping is Free on orders of $99 or more. Brondell products are backed by some of the most comprehensive warranties in the industry. Coupon is not valid on filters or parts. Coupon terms can be found here.
10