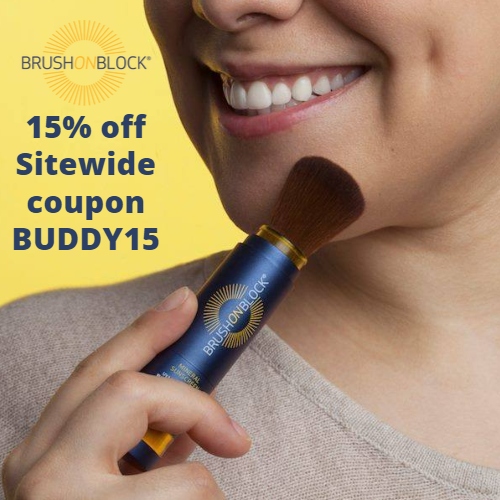 Did you know that one of every three cancers diagnosed is skin cancer? It is the most preventable form of cancer when proper precautions are taken, yet the numbers continue to grow because so many people don't want to deal with the hassle, sticky mess, and smell of sunscreen.
Brush On Block was created to encourage every man, woman and child to wear sun protection every single day by providing a fast, convenient way to protect your skin from the sun.
Brush On Block is a mild mineral powder sunscreen that goes on quickly, reapplies with ease, and is safe for sensitive skin & children 6 months and older – With no greasy hands, stinging eyes, oily skin, and lingering smells!
Brush On Block is sweat & water resistant and offers broad-spectrum protection from both UVA and UVB rays. Since it uses naturally occurring active sunscreen ingredients like titanium dioxide and zinc oxide, it's free of the harsh chemicals found in most traditional sunscreens and it's reef-friendly, vegan friendly, and free of parabens & gluten.
Their patent-pending, self-dispensing & refillable brush design offers ultimate convenience. It's super easy to apply and compact enough to toss in your purse, a lunch box or backpack, keep in the glove box of your car, and even carry it on planes so you have the protection you need wherever you go.
Since their brushes are refillable, they protect the environment as well as your skin! There's no need to toss a perfectly good brush in the trash. Their handy recyclable refill pouches easily pour into the fill cartridge on your brush, meaning one less piece of single-use plastic in a landfill and ultimately eliminating thousands of pounds of single-use plastic annually.
Brush On Block is available in a translucent powder, a tinted powder to give you a warm glow, and in a fun & colorful design for kids that features an ultra-soft & fluffy brush head that feels good on children's delicate skin.
In addition to their amazing mineral powder sunscreen, Brush On Block also offers non-greasy & nourishing Mineral Sunscreen Lotion, Nobody's Perfect Daily Repair Oil for days when you may have gotten a little too much sun, Protective Lip Oils in 3 flattering shades, and a versatile lip liner & a pout prep lip tool to keep your lips looking their best.
Get 15% off Sitewide at Brush On Block using coupon BUDDY15. Shipping is $3.95 or Free on orders of $50 or more. All products come with a 30-day satisfaction guarantee.
4