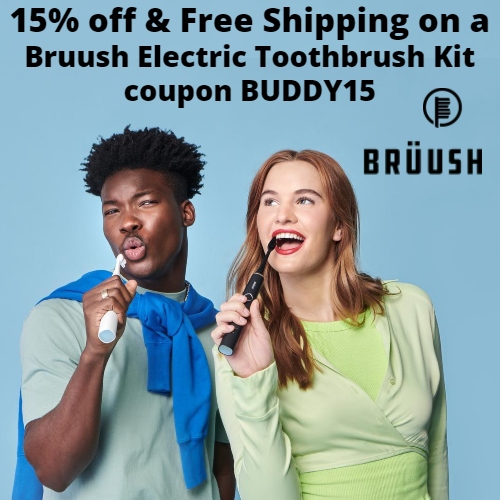 Bruush Coupon
Today: 15% off & Free Shipping on a Bruush Electric Toothbrush Kit
Coupon: BUDDY15
Expires: 10/31/22
ORDER NOW
Designed by dentists and built with sonic technology, Bruush is a high-performance electric toothbrush that provides a superior clean without damaging your gums.
Bruush's extra soft bristles deliver 42,000 brush strokes per minute to gently & efficient clean your teeth & gums, easily remove plaque & stains, and whiten teeth for a pearly white smile.
It features a sleek design, is available in multiple colors, and is equipped with extras you don't get with ordinary toothbrushes, including a built-in 2-minute smart timer, 6 unique cleaning modes, and 4-weeks of battery life (making it a great travel brush as well!).
Your Bruush Electric Toothbrush Kit will include an electric toothbrush in the color of your choice, 3 brush heads, a USB power adapter & charger, and a Free compact travel case.
Fun Fact: Clinical studies prove sonic toothbrushes reduce 20% more plaque than a manual brush!
Get 15% off & Free Shipping on a Bruush Electric Toothbrush Kit using coupon BUDDY15. Bruush comes with a 2-year warranty & a 90-day satisfaction guarantee.
For extra savings, and to ensure you always have fresh brush head, sign up for their subscription plan. You'll get an additional 15% off your kit and Bruush will automatically send you 3 new brush heads every six months for just $6 a head! Shipping is always Free and there are no commitments. You can cancel anytime.
2