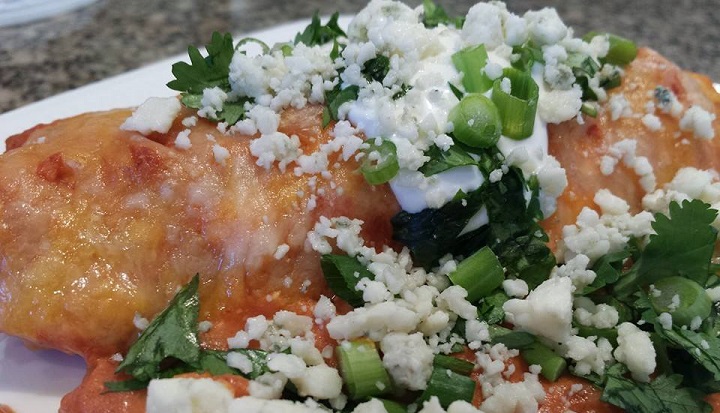 It's been a while since I posted a recipe. This one was too good not to share! If you and your family like hot wings and mexican food, you have to try this merging of supreme flavor goodness! These are so tasty that when my daughter got an A on a test, she asked if I could make them as her reward. As always, I welcome your comments, suggestions, and feedback on my blog! If you have friends you think would like this recipe, please share!
Without further ado, I would like to introduce you to Buffalo Chicken Enchiladas!
Ingredients
Sauce:
14.5 oz Can of Diced Tomatoes
8 oz Can of Tomato Sauce
½ Cup of Frank's Red Hot (regular or hot wing style – which ever you prefer)
4 oz Can of Mild Green Chilis
1 Garlic Clove
½ TSP Fresh Ground Pepper
½ TSP Chipotle Chili Powder
4 oz Cream Cheese
Filling:
2 Cups of Cooked Chicken (Rotisserie works great)
¼ Cup of Shredded Mexican Cheese Blend
¼ Cup Frank's RedHot
8-10 Corn Tortillas
Toppings:
½ Cup of Shredded Mexican Cheese Blend
4 oz Bleu Cheese Crumbles
¼ cup Diced White Onion
Garnish (optional):
Chopped green onions
Bleu Cheese Crumbles
Sour Cream
Guacamole
Extra Frank's RedHot
Directions
Sauce – Combine all sauce ingredients in a blender. Pulse until smooth. Pour into a saucepan and cook on medium-low until hot, thick and bubbly, about 10-15 minutes. Lightly spray 9×12″ glass baking pan with non-stick spray and spread about ¾ cup of the cooked sauce evenly to coat the bottom of the pan.
Filling – Shred chicken or cut into bite size pieces. In a bowl, combine chicken, cheese, and ¼ Cup of Frank's Red Hot.
Warm tortillas in the microwave until soft, about 30 seconds. Or if you prefer a crunchy texture, fry them in oil for a few minutes on each side, then pat dry with paper towels.
Lay one tortilla in the baking pan, fill center with chicken/cheese mixture. Fold one side over and roll tightly to contain the filling with the seam facing down. Repeat the process until all of the chicken has been used, keeping a small space between each enchilada, if you like them to have a more crispy tortilla or have them touch if you prefer softer tortillas.
Pour remaining sauce over the rolled enchiladas and cover with toppings. Cook in a 375 degree oven for approximately 20 minutes or until hot, bubbly and edges start to brown. Allow to cool for about 5 minutes before serving.
Add some extra pizzazz by serving the enchiladas topped with any of the garnishes you like!
Sign up for my email newsletter to get recipes like this delivered to your inbox!
3