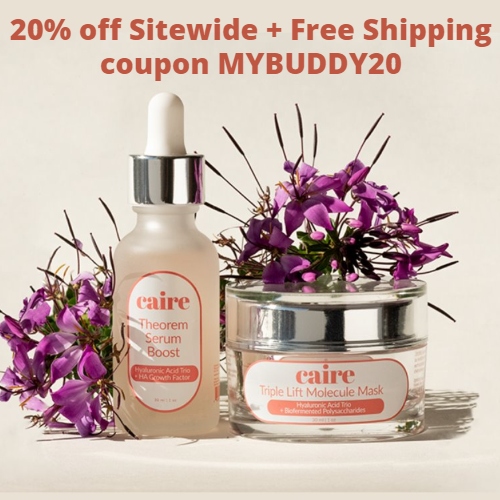 Caire Beauty addresses skin aging caused by declining hormones before & after menopause. The seemingly sudden, dramatically changing skin women experience post age 40 is caused by hormone shifts. That's doctor talk for declining, diminishing, disappearing estrogen. Caire Beauty products fight skin structure aging that's caused by hormone decline.
Caire Beauty's PhD lab proven, triple molecule hyaluronic acid growth formulas build better skin that's firmer & smoother from the inside out. They are developed with bio nutritive ingredients that mimic your skin's building blocks for immediate and longer-term hydrating, firming, brightening, and lifting results. Their products are plant, tree & sea derived only, they never use phthalates, parabens, polyvinyls, polyethylenes, palmitates or other harmful ingredients.
Theorem Serum Boost is clinically proven that with 2X daily usage, you will have stronger, smoother skin in just 4 weeks. Skin firmness improves up to 200% plus it reduces the appearance of lines & sags on the face, neck, and chest, helps strengthen skin from the inside making it suppler, and immediately moisturizes, creating a more youthful glow.
Triple Lift Molecule Mask tightens, hydrates, heals and above all, lifts. It is a skin boosting, glow-making, wrinkle reducing formula that is suitable for all skin types and tones. In a clinical study, 100% of women agreed that their skin was significantly smoother after each application and that the area around their eyes was noticeably lifted after just 1 week of use.
For best results, try them both! Your face and neck will look smoother, firmer, and clearer faster when both products are used together. Skincare sets are available for less than the cost of ordering the products separately!
Get 20% off Sitewide at Caire Beauty using coupon MYBUDDY20. Shipping is Free on all orders – No minimum purchase required. Coupon is not valid on subscription orders.
Caire Beauty offers a 30-day Feel Good Guarantee. If you are not finding your skin to be glowing, smoothing, plumped and/or lifted in the right direction after using their products, you can send them back for a full refund.
2