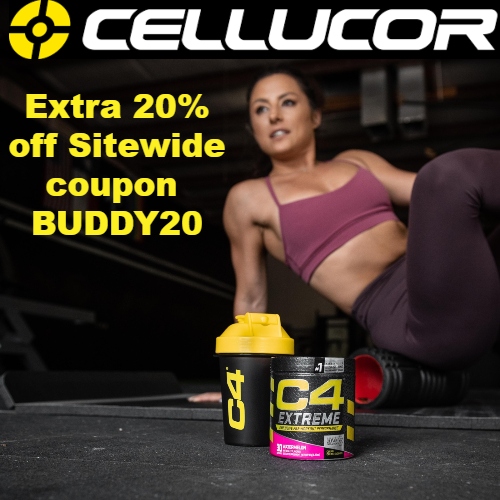 Cellucor is an award-winning industry leader in sports nutrition that is committed to premium products, innovation, and most of all, your results. Their mission is to help people achieve their fitness goals by providing inspiration & knowledge and creating the highest-quality products possible.
Cellucor offers a range of supplements for muscle growth, weight loss, energy, performance, and recovery. Their products are formulated with top quality ingredients that give you the boost you need and the results you want.
Cellucor has won several supplement awards, including Fat Loss Supplement of the Year, Pre-Workout Supplement of the Year, Breakout Supplement of the Year, Exclusive Supplement Flavor of the Year, and more. And their C4 Pre-Workout is America's #1 pre-workout. It provides explosive energy and focus to push you through your next workout with 150mg of caffeine in 12 ounces.
Get 20% off Sitewide at Cellucor using coupon BUDDY20. Register for a Free account on their site and you'll get Free shipping on all of your orders and earn points with their loyalty program! All products come with a 30-day money back guarantee. Coupon is not valid on subscription orders.
4