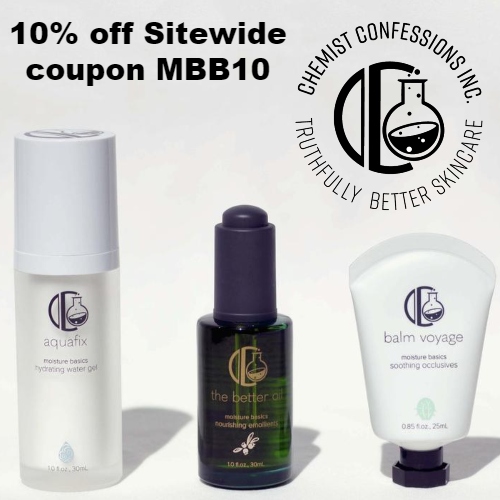 Founded by two chemists with years of experience in the skincare industry, Chemist Confessions offers premium skincare products that combine the best synthetic and natural ingredients in dynamic formulas that are safe & effective.
Their skincare products are formulated for all skin types and they easily integrate into any routine. Their product line includes a powerful pH friendly cleanser, three levels of exfoliating treatments that provide a smoother & brighter complexion, and moisturizers that are designed to elevate your moisturizing routine when your skin starts demanding something different.
Need some serious moisturizing? Their Balm Voyage Soothing Occlusives is a great cream to have on hand, especially in the cold winter months when skin gets super dry. It's fortified with ceramides to strengthen your moisture barrier and keep dry patches away. It also seals in moisture and keeps irritants outs. You can use it as a spot treatment for your face, lips, elbows, hands, and anywhere else that is prone to getting dry.
Not sure which product to try first? Check out their Skin Kits. They include some of their most popular products that work together to optimize your results. They have kits for both oily & dry skin.
Get 10% off Sitewide at Chemist Confessions using coupon MBB10. Shipping is $4.95 or Free on orders of $50 or more. All orders come with a Free deluxe sample.
All products are backed by a 14-day return policy. If you're not happy with your product, you can send it back for a refund.
Chemist Confessions is passionate about educating consumers on the science of skincare! If you're not sure where to start, need some help fine tuning your routine, or just want to learn more about skincare, they have some great information on their blog & Instagram page to help you no matter where you're at on your skincare journey.
2