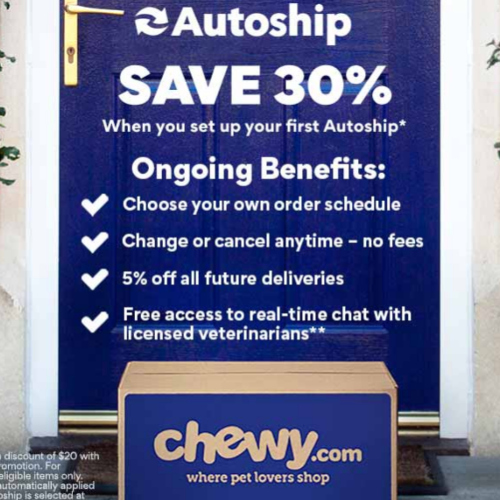 Chewy Deal
Today: 30% off Your First Autoship Order
Not valid with coupons
Expires: Unknown
SHOP NOW
This post contains affiliate links. See my disclosure policy for more details.
Chewy makes it easy to keep up with everything your pet needs to be happy and healthy! Their autoship program lets you schedule regular deliveries of your pet supplies, so you never run out of pet food or other essentials, like potty pads and treats.
I used to get dog food through Amazon's Subscribe & Save program, but sometimes it would pile up because my dogs weren't going through it quickly enough. Unfortunately, the only option Amazon offers is to skip a shipment, which didn't work when I just wanted the food to be delivered a couple weeks later than scheduled.
Frustrated, I decided to check out Chewy. With Chewy's autoship program, you can change the delivery date whenever you like. They even send you a heads up email a few days before your autoship order will be sent. Clicking the link in that email, you can change the ship date to whenever you like, skip the shipment, add or remove items, or cancel the subscription all together.
Sign up today and get 30% off your first autoship order ($20 maximum discount). All future autoship orders get a 5% discount and shipping is $4.95 or Free on orders over $49.
Chewy also carries prescription products + there's no membership fees or obligation with their autoship program. Give them a try!
16