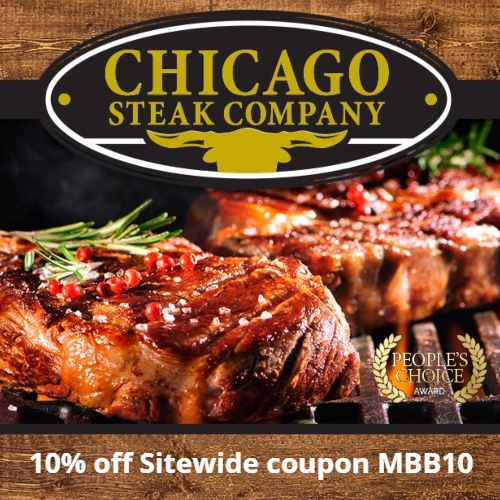 Chicago Steak Company is a premier provider of gourmet dry aged beef, USDA Prime steaks, seafood, and desserts. Since 1865, with the founding of the Union Stock Yards, Chicago has been at the heart of high-quality American meats. Chicago Steak Company proudly carries on that tradition. They specialize in hand-cut, Mid-West raised, Premium Angus USDA Prime beef – cut by Chicago butchers with five generations of experience.
In addition to their amazing steaks, they also offer high quality, delicious pork chops, ham, baby back ribs, and marinated chicken breasts. And they don't stop there! No dinner would be complete without sides and dessert.
If you're looking for quick & easy dinner solutions, check out their pre-cooked sous vide meats. All you'll need to do is heat and serve!
When you place an order with Chicago Steak Company they do everything they can to ensure that your package arrives in excellent condition. Their products are vacuum wrapped and flash frozen in their natural juices to lock in the flavor, then wrapped in food grade paper, sealed with the Chicago Steak Company gold label, and placed in a gorgeous gift box. The gift boxes are then placed inside a reusable insulated cooler with enough dry ice to keep them cold until arrival.
Chicago Steak's products are an easy way step up your holiday meals and they make great gifts! They even have selection of gourmet gift baskets to make holiday shopping a breeze.
Get 10% off Sitewide at Chicago Steak Company using coupon MBB10. Coupon works on gift packs & samplers, which are already highly discounted! Select items ship Free.
7