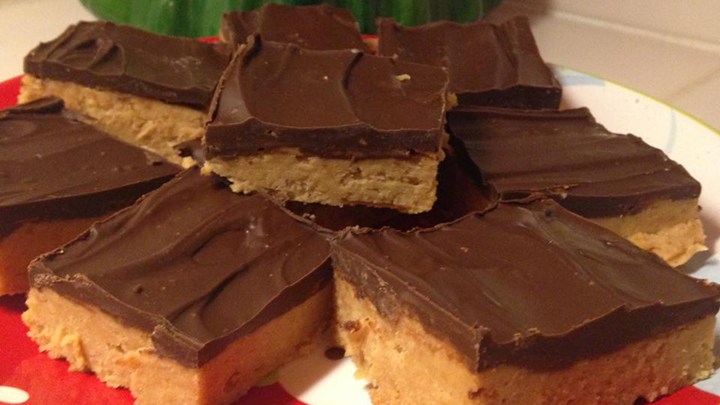 Image: AllRecipes.com

I'm starting on my holiday baking today. One of the staples I always whip up is, ironically, a "no-bake" dessert, are these Chocolate Peanut Butter Squares. They taste just like a Reece's Peanut Butter Cup – Only fresher! If you're a fan of Reece's, you've got to try this recipe!
This post contains affiliate links. See my disclosure policy for more details.
Ingredients
2 cups confectioners' sugar
3/4 cup peanut butter (I prefer crunchy – Use what you like)
2/3 cup graham cracker crumbs (boxed crumbs are very handy!)
1/2 cup unsalted butter, melted
pat of butter for greasing pan
Topping Ingredients
2/3 cup semisweet chocolate chips
4-1/2 teaspoons creamy peanut butter
1/2 teaspoon unsalted butter
Directions
Line an 8″ square baking dish with foil. Use the pat of butter to grease the foil; set aside. In a large bowl, combine confectioners' sugar, peanut butter, graham cracker crumbs, and 1/2 cup of butter. Spread into prepared pan.
Combine topping ingredients in a microwave-safe bowl; heat at 50% power until melted, being careful not to burn it. Spread over peanut butter layer. Refrigerate until cool. Using foil, lift out of pan. Cut into 1″ squares. Store in an airtight container in the refrigerator. Yield: Bout 1-1/2 pounds.
Tip
When you're baking with sticky ingredients like peanut butter, shortening, honey, it can be really difficult to measure. It's even more difficult to get the stuff OUT of the measuring cup. I use this plunger-style measuring cup by OXO. It makes measuring sticky stuff so much easier and all you have to do is press on the plunger and everything comes out. No scraping required!
Sign up for my email newsletter to get recipes like this delivered to your inbox!
11