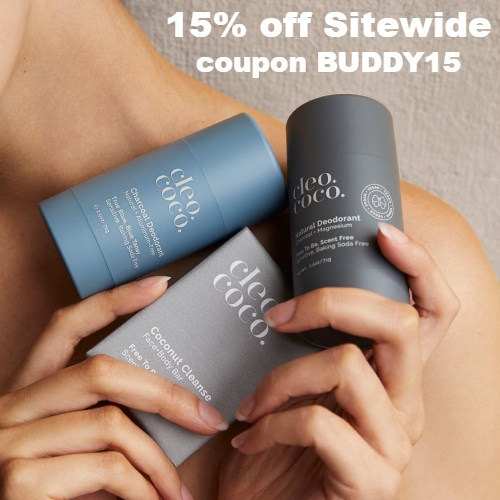 Cleo + Coco wants women to feel beautiful and enjoy luxurious personal care without compromising their health or the environment. They create natural personal care products that are safe, effective, and indulgently pampering.
Every Cleo + Coco product is crafted with carefully selected plant-based ingredients that have been vetted for quality, potency, and safety. They are non-toxic and free from synthetic fragrances, fillers, and other potentially harmful substances.
Their award-winning charcoal deodorants are aluminum-free and clinically proven to eliminate odor. They glide on creamy and clear, leaving no residue, and delivering a skin-nourishing boost of essential vitamins and minerals.
Unlike some of the other natural deodorants out there, their deodorants actually work! In a blind panel, 97% of users reported that Cleo + Coco charcoal deodorant kept them fresh all day long – even through workouts! They come in five delightful scents as well as unscented & vegan options for sensitive skin.
Cleo + Coco also offers face & body cleansing bars, vitamin-c body polishing bars, mineral cleansing hand & body bars, and a multi-tasking dry shampoo + body powder that keeps you feeling fresh from head to toe.
Get 15% off Sitewide at Cleo + Coco using coupon BUDDY15. Shipping is $5.99 or Free on orders over $50. Coupons are not valid on subscription orders.
For extra savings check out their bundle deals. All products are backed by a 30-day satisfaction guarantee (excludes bundles/kits).
Cleo + Coco isn't just better for you, their products are better for the environment, too. They come in 100% recyclable bottles and they offer zero-waste deodorant bars & compostable refills for their powders. Plus, they are continuously working to develop new zero-waste options.
Their zero-waste deodorant bars come wrapped in compostable, grease-proof paper for clean storage and are packaged in an FSC-certified, recyclable paper box. There is a waste-free wax mold at the bottom of each bar that allows you to hold the deodorant without getting it on your hands.
2