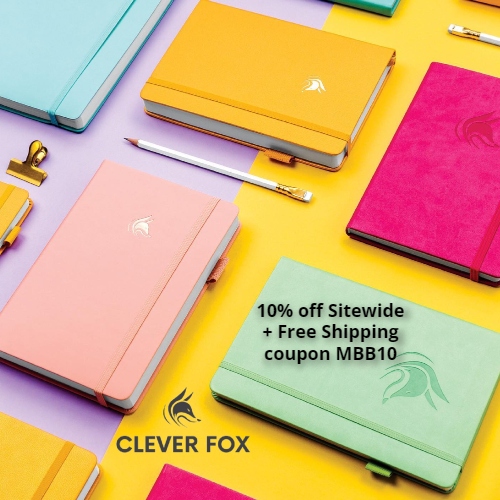 In today's fast-paced world, juggling multiple responsibilities and managing time effectively can be overwhelming. Whether you're a student, a professional, an entrepreneur, or a busy parent, staying organized and focused is crucial for success. This is where Clever Fox Planner comes to the rescue! Designed to enhance productivity, achieve goals, and foster personal growth, Clever Fox Planner is the solution for anyone looking to hit their goals while also increasing their happiness through self-development.
One of the first things that sets Clever Fox Planner is its thoughtful design. The layout is crafted to offer a seamless planning experience. Whether you prefer a weekly, monthly, or daily layout, they have a planner to suit your preferences. Each planner is filled with high quality paper, ensuring a luxurious writing experience with no ink bleed-through.
Clever Fox Planners place an emphasis on goal-setting and tracking progress. At the beginning of the planner, users can outline their long-term goals, breaking them down into actionable steps. This approach helps create a clear roadmap towards achievement. And because incorporating new habits can be challenging, Clever Fox Planner makes it easier with its habit-tracking feature. By consistently monitoring and reflecting on habits, users can build routines that lead to personal and professional growth. The planners also includes monthly and quarterly reviews to track progress and make necessary adjustments.
Inspirational quotes, space for gratitude journaling, and reflections on personal achievements promote a positive mindset, foster resilience, and reduce stress while placing an emphasis on mindfulness and positivity.
In addition to traditional planners, Clever Fox also carries specialized fitness & food journals, finance & budgeting planners, medical & health planners, journals, password books, travel journals, and more.
Get 10% off Sitewide at Clever Fox Planner using coupon MBB10. All orders ship Free – No minimum purchase required! All orders are backed by a 60-day 100% money back guarantee.
TIP: Add a little fun to your planner or journal with a Clever Fox Planner sticker bundle – they have several to choose from!
1