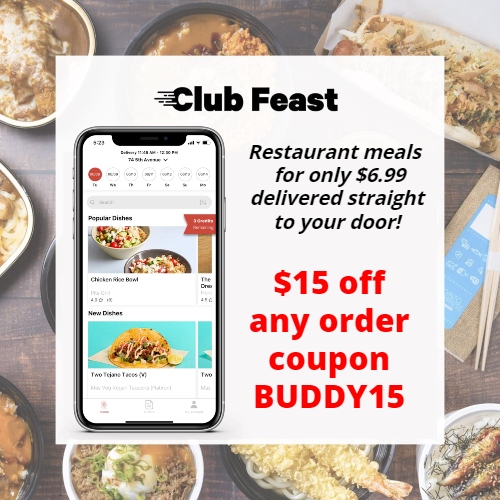 Club Feast delivers meals from your favorite restaurants at unbeatable prices. They are committed to making food delivery more affordable, convenient, and environmentally friendly. Club Feast partners with local restaurants to help them expand their customer base and benefit from the growing food delivery market, without charging unreasonable fees that cut into their profit margins. By bulk ordering in advance, they empower restaurants to prepare meals during off-peak hours to optimize their kitchen use and decrease supply cost.
Since they batch order and pre-plan delivery schedules using a proprietary algorithm, their drivers make more deliveries in less time, while travelling shorter distances. By optimizing their drivers' delivery routes, they simultaneously lower fuel costs and minimize their carbon footprint.
Club Feast offers flexible lunch and dinner meal credits that allow you to pre-order meals and pre-plan deliveries for 40% less than on demand food delivery platforms. A credit is only $6.99 and each credit is good for one dish at whichever restaurant you choose. Signing up for Club Feast is completely Free and you can choose how many credits to buy, when you want to buy them, and how & when you want to use them. You can pause, skip, or cancel anytime!
Ordering with Club Feast is as easy as 1-2-3!
1. Browse Local Restaurants: Open the Club Feast web app to find your favorite dishes. Search, filter by cuisine, or browse through their specially curated meal selection. With a wide variety of restaurants at your fingertips, you are sure to find something you crave.
2. Order in Advance: Select each day's delivery and a 45-minute delivery window from your chosen restaurant by 6pm the night before. Your daily orders can be scheduled up to a week in advance. You can always cancel or edit your orders as many times as you'd like up until 6pm the day before delivery.
3. Enjoy Your Club Feast!: You will receive your fresh and ready-to-eat order within your pre-determined 45-minute delivery window, then all you have to do is enjoy!
Get $15 off any order at Club Feast using coupon BUDDY15.
Club Feast currently delivers to San Francisco, South Bay, East Bay, and New York City. They are expanding rapidly, so if they're not in your area now, they may be soon! Join their mailing list and they will notify you when they are in your area.
A 12% service fee and delivery fee of up to $2.99 will be added to each order. A small order fee will be applied to single dish orders. Delivery is Free when you order 4 or more meals!
3