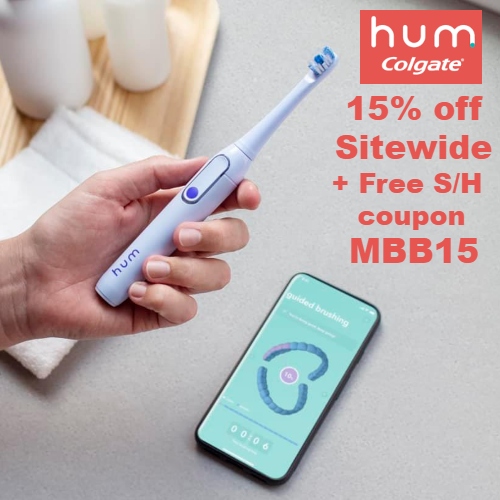 Did you know that most people miss up to 40% of their teeth when they brush? Thankfully, Colgate hum has you covered! Clinically proven to increase efficacy by 50%, the hum toothbrush and smart toothbrush app are the perfect duo to guide you to better brushing. They deliver personalized care that tracks the frequency, duration, and coverage of your unique brushing style.
Colgate's hum smart electric toothbrushes include sensors that can target spots that need extra love and help you improve your speed, angle, and coverage while brushing. They have multiple modes that let you choose the vibration level that best suits you, an ergonomic handle to make brushing comfortable, and rechargeable & battery powered options that each come in your choice of 3 colors.
Colgate hum is great for kids! Getting your kids to brush their teeth, and do it the right way, can be a struggle. Hum kids makes brushing fun and effective. Their fun 2-minute brushing games make kids want to brush their teeth! Colorful augmented reality dots share brushing progress in a live game on your phone or tablet – where monsters are conjured in spots that need attention. Kids earn rewards for successful brushing to get new worlds and fresh monsters in the game.
But the fun isn't just for kids! Adults get rewarded for brushing, too! Each time you brush with hum or complete an activity, you earn points that can be redeemed in the app's shop for whatever items make you smile.
Get 15% off Sitewide at Colgate hum using coupon MBB15. All orders ship Free and all hum brushes come with 30-day money back guarantee. Coupon will apply to one time purchases and the first shipment on subscription orders.
Your first replacement head refill is Free with subscription orders. After that, your card will be charged $4.99 for refills every 3 months. There are no contracts and you can cancel anytime.

4