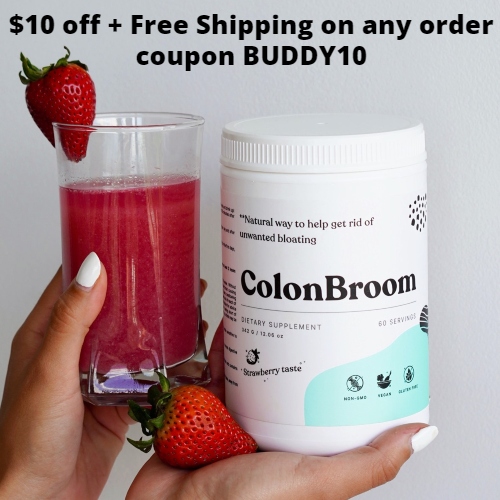 Did you know that over 100 million Americans struggle with constipation, bloating, and heaviness in their gut? ColonBroom offers a safe and effective way to relieve constipation & bloating, lose weight, cleanse your body, and improve your overall health.
Dietary fiber is important for our digestive health and for regular bowel movements. It also helps you feel fuller longer and can assist in preventing diseases such as diabetes, heart disease, and bowel cancer. Unfortunately, most people don't get enough fiber or they're taking the wrong type of fiber.
The main ingredient in ColonBroom is Psyllium husk. It's one of the most effective & beneficial fiber supplements around. It is able to pass through your digestive system without being completely broken down or absorbed. It actually absorbs water and becomes a powerhouse compound that will regulate and strengthen your gut health, which improves health & wellness in many other areas as well.

ColonBroom comes in a great tasting, natural strawberry flavored powder that easily mixes into water. Some of the benefits ColonBroom provides include:
– Relieves constipation and regulates bowel movements
– Eliminates bloating – You can feel lighter within 72 hours!
– Improves digestive system function
– Natural gut and body detox
– Curbs food cravings (Goodbye, binge-eating!)
– Promotes weight loss
– Boosts energy levels
– Boosts immunity
– Mood enhancement
– Healthy, glowing and youthful skin
– And much more!
ColonBroom is so effective that 95% of consumers noticed more frequent and regular bowel movements, 80% recorded weight loss without feeling hungry, and 90% reported feeling lighter after only 12 hours!
Get $10 off and Free Shipping on any order at ColonBroom using coupon BUDDY10.
The more you buy, the more you save! You can save up to $40 per bottle when you purchase a 3- or 6-month supply. And for even more savings, consider a subscription. You can save a whopping 65% (before coupon) when you choose a 6-month subscription!
4