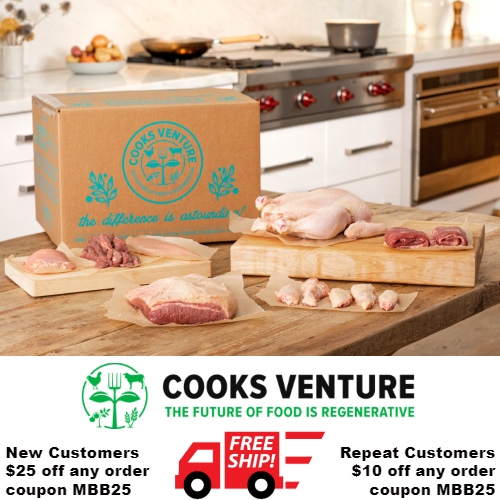 Using regenerative farming practices, Cooks Venture is building an alternative to America's meat industry and delivering great food from independent, regional farms. Every step of farming – from breeding and raising animals humanely, to implementing regenerative agriculture systems, contributes to the amazing flavor of their meats.
Cooks Venture pasture-raised chickens are heirloom, slow-growth birds that spend their days exploring the outdoors with unlimited outdoor access on their 800-acre farm in Northwest Arkansas. The result is juicier meat that is deeply flavored and more tender than that of conventional chicken, all without antibiotics or added hormones.
Cooks Venture grass-fed & grass-finished beef has no added hormones. The cattle roams freely on pastures their entire lives, eating their natural diet of grass, which supports a regenerative grazing cycle, restores grasslands, and sequesters carbon.
Cooks Venture Kurobuta pork is considered to be the pork equivalent of Wagyu beef. Created from the Berkshire pig, Kurobuta is a heritage breed that comes from Japan. This special breed is known for its deep flavor, marbled fat, and tenderness.
Get $25 off your first order at Cooks Venture using coupon MBB25. Repeat customers can get $10 off any order using coupon MBB10. Shipping is Free on all orders in the continental U.S.
Placing an order at Cooks Venture does not sign you up for a subscription, so there's nothing you'll ever have to cancel.
Cooks Venture loves their food and they want you to love it, too! That's why your purchase is backed with the Cooks Venture Guarantee. If your order isn't delicious and perfectly packaged, drop them a line, and they'll make things right!
35