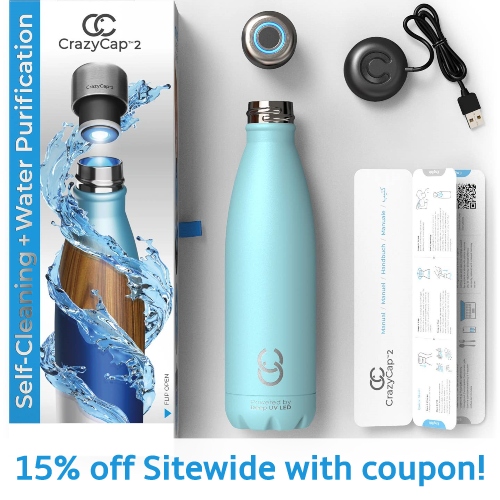 Did you know the current consumption rate of single-use plastic bottles is 1 million per minute?! That's a lot of plastic waste! And even if it does get recycled, which according to the International Bottled Water Association, only about 33% do, wouldn't it be better just to be a bit more mindful when it comes to our daily water consumption? If you have access to clean tap water, there's no longer any reason to buy individual bottles of water and contribute to the plastic waste problem that is plaguing our planet.
To help you ditch bottled water for good, CrazyCap makes tap water bottle ready. In fact, it makes all water drinkable, from a freshwater lake to contaminated tap water! CrazyCap uses advanced deep UV LED to sterilize water. This UV light purification is effective against bacteria, viruses, and pathogens. It prevents a wide range of waterborne illnesses by effectively killing 99.999% germs from any questionable water source.
CrazyCap is also self-cleaning. It turns on once every 4 hours, for 20 seconds each time, to sterilize the inside surface of your bottle. This ensures your bottle doesn't accumulate mold, bacteria, viruses, or any harmful pathogens. That's right! No more stink in your drink! You can order a CrazyCap all by itself to use with a bottle you already own or it can be puchased with a bottle.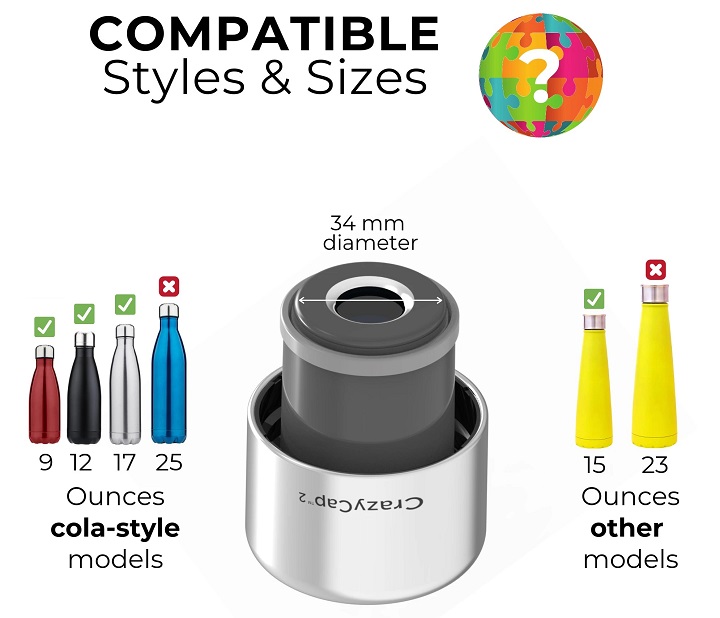 Another cool use for CrazyCap – it doubles as a sanitizing travel wand! When shone on a surface for 2 minutes, CrazyCap's deep UV light can eliminate up to 99% of germs.
For a limited time, you can get 15% off Sitewide at CrazyCap using coupon BOO15. Orders over $75 ship Free.
CrazyCap does not remove particulate matter and/or chemicals (such as fluoride/chlorine) from water.
2