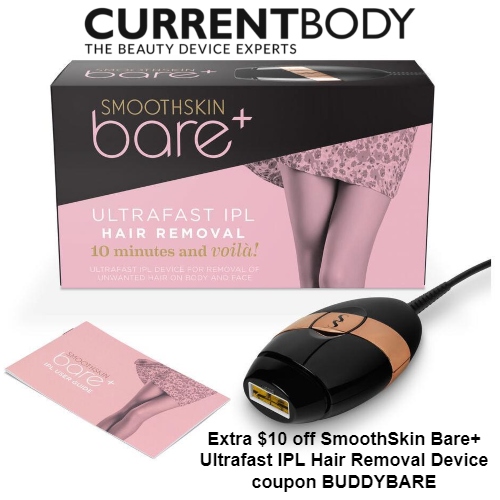 CurrentBody Coupon
Today: Extra $10 off SmoothSkin Bare+ Ultrafast IPL Hair Removal Device
Coupon: BUDDYBARE
Expires: 2/28/21
ORDER NOW
CurrentBody is the premier online destination for home use health and beauty technology. They offer the largest selection of safe, clinically proven electronic health and beauty devices in the world, supported by a team with exceptional product knowledge and excellent customer service.
With modern technology, manufacturers are now able to create devices that mimic those used by professionals in salons, spas, and clinics. There are tons of new products out there and it's hard to know which ones really work. CurrentBody brings together all the highest quality, most effective devices from the best brands, so you can be confident you are getting a top-quality product that works!
One of the great products they offer is the SmoothSkin Bare+ Ultrafast IPL Hair Removal Device. You can get super smooth, hair free skin super-fast with the SmoothSkin Bare+ Ultrafast IPL Hair Removal Device. It is extremely effective and designed to fit into your busy schedule. You can treat your entire body in just 10 minutes with this ultrafast device!
SmoothSkin Bare+ works by transferring light energy through the skin's surface with 100 flashes per minute. The melanin in the hair shaft absorbs the light energy. This light energy converts to heat energy below the skin's surface, stopping hair from growing back.
SmoothSkin Bare+ comes with unlimited flashes, meaning you get a lifetime of treatments without needing to worry about buying refills. It is safe to use on most areas of the body, including the legs, body, bikini line and even the face – leaving you completely hair free – permanently.
Get an Extra $10 off SmoothSkin Bare+ Ultrafast IPL Hair Removal Device at CurrentBody using coupon BUDDYBARE. SmoothSkin Bare+ Ultrafast IPL Hair Removal Device comes with a 90-day money back guarantee and a 2-year warranty. Standard shipping is $5 or Free on $100+ orders. Orders of $150 or more come with Free express shipping.
2