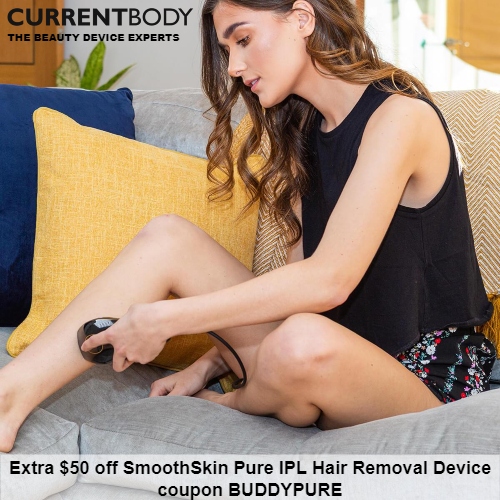 CurrentBody is the premier online destination for home use health and beauty technology. They offer the largest selection of safe, clinically proven electronic health and beauty devices in the world, supported by a team with exceptional product knowledge and excellent customer service.
With modern technology, manufacturers are now able to create devices that mimic those used by professionals in salons, spas, and clinics. There are tons of new products out there and it's hard to know which ones really work. CurrentBody brings together all the highest quality, most effective devices from the best brands, so you can be confident you are getting a top-quality product that works!
Laser hair removal is one of the most popular beauty treatments, but it can be expensive! Smoothskin offers an in-home alternative to pricey spa/clinic treatments. You can slow down hair regrowth for good with SmoothSkin's most powerful IPL device yet. The SmoothSkin Pure IPL Hair Removal Device harnesses stronger IPL technology than ever before, meaning you can enjoy hair-free skin for longer. Designed to stunt your hair cycle and permanently reduce hair growth, the device can complete a full body treatment in just 10 minutes.
The intelligent built-in skin sensor scans your skin to adjust the light intensity for your skin tone, ensuring safe, salon-standard results every time. With unlimited flashes, you're equipped with a lifetime of treatments, so you don't need to worry about stubbly legs or prickly underarms ever again.
Get an extra $50 off the SmoothSkin Pure IPL Hair Removal Device at CurrentBody using coupon BUDDYPURE. The SmoothSkin Pure IPL Hair Removal Device comes with a 90-day money back guarantee and a 2-year warranty. Standard shipping is $5 or Free on $100+ orders. Orders of $150 or more come with Free express shipping.
4