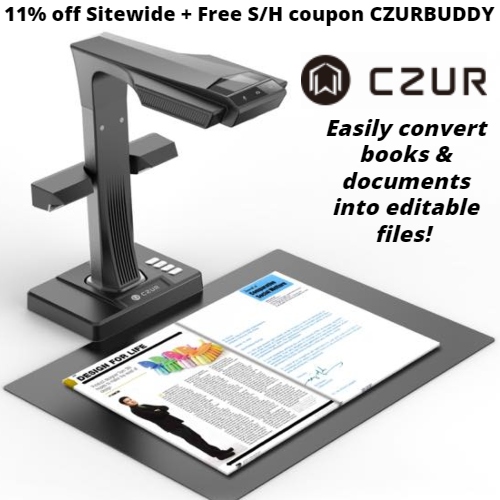 CZUR is an innovator of cutting-edge technology and the inventor of the smart book scanner that allows you to scan hundreds of pages in minutes, without damaging your book!
CZUR scanners and accessories are designed to reshape the modern workplace environment, whether you need to digitize blueprints for your business, thick bound history books for your research, create a demonstration for class or the office, or simply build your digital library, CZUR scanners will get your projects done in less time and with no headaches!
Don't know what's in your books and it takes forever to find anything? CZUR OCR (Optimal Character Recognition) technology solves that problem quickly by converting your scanned images to editable files so you can digitize, search, and edit your files in one place. Plus it supports 180+ languages, so whatever you need to scan, it can handle it!
Their scanners have tons of other convenient features, like intelligent software that auto-detects page turn and can trigger scan automatically for effortless scanning, patented book curve flattening technology that removes the curvature of books in CZUR's software, so there's no need to flatten the page curves by hand, and supplemental lighting that makes it possible to scan glossy pages with perfect clarity.
Though professional and sophisticated in features and technology, their scanners are super easy to use and the simple compact design streamlines your project without the bulkiness of other scanners that take up tons of space.
CZUR offers a Professional Series Scanner that is meant for heavy usage – you can easily scan a 300 page book within 10 minutes, which is 10 times faster than traditional scanners, and a Personal Series for smaller jobs and basic scanning at home.
They also offer gadgets and accessories, like their Smart Notebook, which makes it easy to send all your written notes and ideas to Cloud services, the PortaPack for safely carrying your scanner, and more.
Get 11% off Sitewide at CZUR using coupon CZURBUDDY. Shipping is Free on all orders – No minimum purchase required! All products come with a 1-year warranty.
Fun Fact: CZUR is one of the leading scanning brands in the world! They have won numerous awards for their scanners and received record-breaking crowdfunding on their projects!
2